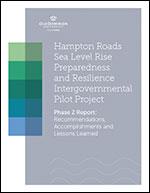 The mission of the Intergovernmental Planning Pilot Project, from Old Dominion University's Center for Sea Level Rise, is to develop a regional "whole of government" and "whole of community" approach to sea level rise preparedness and resilience planning in Hampton Roads that also can be used as a template for other regions. View the Pilot Project Charter for an in-depth look at the Pilot Project's intentions.
"Phase 2 Report: Recommendations, Accomplishments and Lessons Learned" was published in October 2016, and can be viewed here.
Find out more about the Center for Sea Level Rise's continuing activities at www.centerforsealevelrise.org.