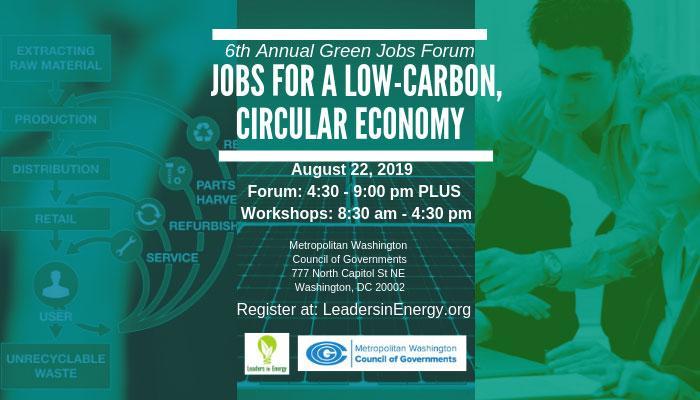 The 6th Annual Green Jobs Forum, Jobs for a Low-Carbon Circular Economy, is set for August 22, 2019 at the Metropolitan Council of Governments, 777 North Capitol Street NE, Washington, DC.
This event is conducted by Leaders in Energy (LE) and hosted by the Metropolitan Washington Council of Governments. The evening forum follows day-long workshops to help advance your career.
Find Out More
You will:
Learn about opportunities for green jobs in the Metropolitan DC Region.
Get tips from Leaders in Energy members who have landed or created green jobs.
Meet exhibitors from companies and organizations who are hiring and meet green tech/clean energy educational organizations offering training and certifications for continued career growth.
Connect with others working in the energy, sustainability, and environmental fields (or who are seeking to transition into these sectors) at one of our most popular events!
Advance YOUR Career by learning new skills and insights by attending our Green Career and Networking Workshops!
Green Jobs Forum Agenda
4:30 – 6:00 pm Exhibitors – including companies and educators
6:00 – 8:15 pm Panels
8:15 – 9:00 pm Exhibitors and Networking
Plus Workshops to Advance Your Career
8:30 – 11:30 am Green Career 1.0 Workshop
12:15 – 1:15 pm Networking Workshop–
1:30 – 4:30 pm Green Career 2.0 Workshop
Register online now at the Leaders in Energy website.