2017 Resilient Virginia Conference

The 2017 Resilient Virginia Conference
"Connecting Communities, Business, and Educators for Resiliency Solutions"
August 1–2, 2017  |  Richmond, Virginia
Plan to take part in the second statewide conference on resiliency!
Conference registration will open on April 26, 2017.
This year's theme, Connecting Communities, Business, and Educators for Resilience Solutions, builds on last year's inaugural conference goals of broadening the capacity for resiliency planning in the state, and it serves as a forum to highlight the resiliency programs developed under Governor Terry McAuliffe's administration.
We are pleased to announce that the office of The Honorable Brian Moran, Virginia Secretary of Public Safety and Homeland Security and Chief Resiliency Officer, and the Virginia Department of Emergency Management (VDEM), have taken a leading role in supporting the conference.
The Resilient Virginia Conference brings together participants from local and national businesses, and representatives from higher education, state and local governments, and community organizations to:
Explore resiliency rationales for their organizations;
Learn resiliency processes applicable to the public and private sector;
Develop an understanding of resiliency priorities in different regions of the state;
Engage in networking with resiliency businesses, government representatives, and institutional and community organizations; and
Take away tools that can be used for resiliency planning in their own communities.
---
Agenda & Speakers
The 2017 Resilient Virginia Conference provides a unique forum to inform, educate, and activate communities across Virginia about the benefits of resiliency planning.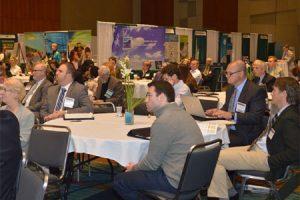 Plenary sessions will feature national and state-level experts who will address the national security and community-building aspects of resiliency, as well as highlight the economic value to both governments and corporations of adopting resiliency measures in their policies and operations.
Breakout sessions will provide the opportunity for in-depth presentations on critical aspects of resiliency as it relates to challenges and risks faced by communities that range from extreme weather events, national security and public health issues, to social and economic disruptions.
Topics that will be addressed include:
Emergency Preparedness,
Infrastructure Adaptation Strategies,
Private Sector Role in Resiliency,
Energy Security Pathways,
Innovative Technologies and Solutions,
Food Security and the Rural/Agricultural Communities,
Case Studies highlighting progress in Virginia and other states, and
Participatory learning on initiating and implementing Resiliency Plans.
Look for updates on speakers and topics as the agenda is finalized.

---
Sponsor and Exhibitor Opportunities
The 2017 Resilient Virginia Conference is an opportunity to showcase your business' resiliency products and services and your organization's resiliency programs to a highly focused audience.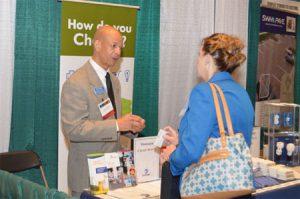 Sponsors will receive extensive publicity before and during the conference, as well as an exhibit booth, presentation opportunities, and a special reception.
Exhibitors will be highlighted on the website and program, with opportunities to showcase their products and services at the August 1st Conference Reception.
New this year! The conference will have a special section of the Exhibit Hall reserved for Innovative Technology and Solutions businesses.
For sponsor and exhibitor information details, contact Annette Osso, Managing Director, Resilient Virginia (osso@ResilientVirginia.org).
---
Thanks to these Sponsors!
(As of April 17)
Resiliency Visionary Level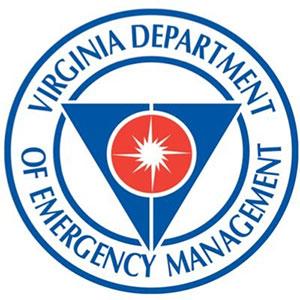 Resiliency Benefactor Level

Resiliency Leader Level

Resiliency Friend

---
Registration
Online Registration will open on April 26, 2017
Early registration available through July 7, 2017

Non-Profit/Academic/Small Business/Individual: $175
Government: $225
Business: $350
Full registration includes two days of plenary and breakout sessions, exhibit hall access, and breakfast, lunch, breaks, and an evening reception.
Student Registration:
August 1 only: $75
August 2 only: $50
Online Registration will open on April 26, 2017
---
Resilient Virginia Conference Partners
(As of April 17)
National and State-Level Partners include:
Alliance for the Chesapeake Bay/Businesses for the Bay
American Council for an Energy Efficient Economy
American Society of Landscape Architects, Virginia Chapter
Biodiversity for a Livable Climate
Get Ready! Emergency Planning Center
Leaders in Energy
State Universities
Virginia Center for Wind
Virginia Clean Cities
Virginia Association of Counties
Virginia Department of Agriculture and Consumer Affairs,
Virginia Department of Environmental Quality,
Virginia Department of Mines, Minerals and Energy
Virginia Energy Efficiency Council
Virginia Municipal League
---
Planning Committee
Conference Planning Committee
We are pleased that our Conference Planning Committee includes representatives from national organizations, state and local government, the private sector, and academia.
Co-Leaders
Annette Osso, LEED AP, Managing Director, Resilient Virginia
Curtis C. Brown, Deputy Secretary, Public Safety and Homeland Security
Karen Akerlof, GMU Center for Climate Change Communication
Angela King, Virginia Coastal Policy Center, William & Mary Law School
Sharon Baxter, VA DEQ
Eric Bendfeldt, Virginia Cooperative Extension
Nell Boyle, Sustainability Office, City of Roanoke
Curtis Brown, Deputy Secretary, Office of Public Safety & Homeland Security
Margaret Brown, Powered by Fact
Eldon Burton, Office of Congressman MacEachin
Elizabeth Chudoba, Alliance for the Chesapeake Bay
Michelle Covi, Old Dominion University
Bonnie Cranmer, Bonnie Cranmer Consulting
Erik Curren, Curren Media Group
Evan Feinman, Tobacco Commission
Mary Jo Fields, Virginia Municipal League
Hayes Framme, Office of the Secretary of Commerce & Trade
Jane Frantz, Dewberry
Katy Fraser, Virginia Agribusiness Council
Tom Gagnon, Office of the Secretary of Public Safety and Homeland Security
Leonard Githinji, Virginia State University
William Godfrey, Environic Foundation International
Harry Gregori, Virginia UAS
Alleyn Harned, Virginia Clean Cities
Francis Hodsoll, Solunesco
George Huff, The Continuity Project
Isaac Janak, Office of the Secretary of Public Safety and Homeland Security
Jane Milici, ULI-Virginia
Robin Jones, VA DMME
Rebecca Joyce, Central Shenandoah PDC
James Keck, Virginia Commonwealth University
Carl Knoblock, US Small Business Administration
Kathy Robins, Richmond Regional PDC
Larry Land, Virginia Association of Counties
Christina Luman-Bailey, City of Hopewell
Cooper Martin, National League of Cities
Ben McFarlane, Hampton Roads PDC
Alex McLellan, Resilience Thinking Institute
Jonathan Miles, James Madison University
Susan Mongold, VDEM
Christy Morton, Center for Rural Virginia
Angela Navarro, Deputy Secretary, Natural Resources
Nancy McNabb, The Continuity Project
Ashley Nauta, Virginia Cooperative Extension
Remy Pangle, JMU Center for Wind
Patrick Patrong, VDEM
Megan Peterson, Office of the Secretary of Public Safety & Homeland Security
Michael Phillips, Virginia Clean Cities
Speaker Pollard, Williams Mullen
James Redick, Emergency Preparedness, City of Norfolk
Maureen Roskoski, Facility Engineering Associates PC
David Savarese, Jacobs
Daniel Slone, McGuire Woods & Resilient Design Institute
Andrew Smith, Virginia Farm Bureau
Anthony Smith, Secure Futures
Rodney Sobin, NASEO
Andy Sorrell, Farmland Preservation, VDACS
Stacie Neal, Office of the Secretary of Public Safety and Homeland Security
Erin Stanforth, VCU Sustainability Office
Emily Steinhilber, Old Dominion University
Corinne Stephens, Businesses for the Bay
Maribel Street, Office of the Secretary of Public Safety and Homeland Security
Janice Stroud-Bickes, USDA Rural Development
Chris Tabor, PE, Hazen and Sawyer
Sirirat Tavanapong, Jacobs
Thomas Thompson, Consultant

---
Convention Center Info
The Greater Richmond Convention Center
The Greater Richmond Convention Center is the site of the 2017 Resilient Virginia Conference. Parking is available for a fee at nearby parking lots.
The Convention Center is a qualified "Virginia Green" venue. You can find out about their Green Profile here. Green Practices employed by the Convention Center include:
Recycling and waste reduction
Elimination of styrofoam and reduction of disposables
Water efficiency
Energy conservation
Support for green conferences and events
For general information on the Convention Center visit www.richmondcenter.com.
---
Hotel Information
The Hilton Richmond Downtown
501 East Broad Street
Richmond, VA 23219
804-344-4300
www3.hilton.com
The Hilton Richmond Downtown is offering a special rate for the 2017 Resilient Virginia Conference. Ask for the Conference's group rate when making a reservation. All rooms and rates are subject to availability. Group rates are available through from May 1 through July 10, 2017.
---
Contact info
For more information on the 2017 Resilient Virginia Conference, please contact:
Annette Osso, LEED AP, Managing Director, Resilient Virginia
Telephone:
(703) 486-2966
Mobile:
(703) 629-1650
E-mail:
osso@resilientvirginia.org
Mail:
Resilient Virginia
PO Box 6539
Arlington, VA 22206
Registration Questions? Please send an email to ncrowe@convention-connections.com.