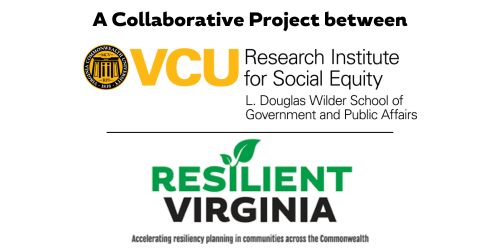 Resilient Virginia is partnering with Virginia Commonwealth University Research Institute for Social Equity (RISE) to shed light on climate justice issues in the Commonwealth through the Environmental Justice Data Project. The project is focused on data collection and community outreach to inform researchers about the impact of disasters and environmental hazards on critical infrastructure. Resilient Virginia and RISE will work with three local governments representing historically marginalized and underserved communities to secure funding for climate resilience projects.  To that end, efforts will involve finding grants that address specific community needs and assisting local governments in applying for them. Our partnership will work to elevate the voices of those who have been routinely ignored in the fight for a more resilient future.
September 2023
Three local governments have been identified to work with on this project: Richmond, Charles City County, and Emporia.  The team has started discussions with these locations and will work with them to identify particular communities to be the focus of the project.
October  2023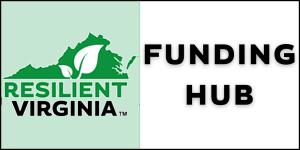 Resilient Virginia is currently working to identify and tabulate funding opportunities for these communities which we are building into a Funding Hub on our website. The Funding Hub will be available to anyone and will be a great tool for communities to easily identify and learn key information about the funding resources (especially those that are coming through state agencies) that are available to them.