Our mission is to accelerate resiliency planning in communities across the Commonwealth.
What Is Resilience?
Resilience is the ability to identify risks and build the capacity to maintain or rapidly regain functionality and vitality in the face of chronic stressors or severe disturbances.
For the short term, resiliency planning enables communities to better address extreme weather or other high impact events.
For the long term, community resiliency provides the ability to adapt and thrive despite changing climate, environmental, social, and economic conditions.
Why Your Community Needs a Resiliency Plan
Communities face increasing challenges from extreme weather events and unpredictable climate patterns. Meanwhile, economic, environmental, health and other social stresses continue to impact communities on an on-going basis. New ways of bringing together climate information, socio-economic trends, and natural resource impact are needed. Resiliency plans can provide a roadmap for localities to strengthen physical and societal infrastructure so they can continue to function and thrive as centers of production, sources of essential services, and equitable communities despite short and long-term challenges.
The Four Main Components of a Resilient Community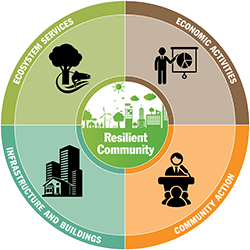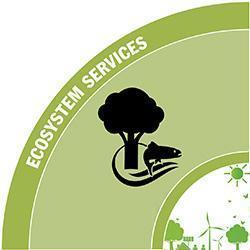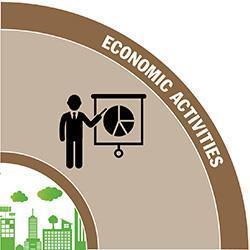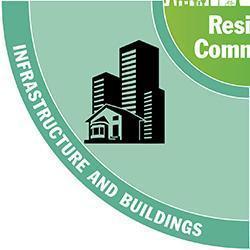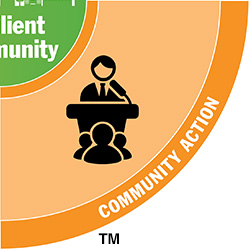 There is no "one size fits all" solution. Resiliency planning involves analyzing a community's strengths and identifying gaps in how well it can deal with natural and man-made disasters, public health challenges, and socio-economic stressors.
Depending on the regional location — coastal, urban, or rural, as well as local socio-economics and other community factors — local governments will need to identify and prioritize which of the sub-categories from these four main resiliency components will help them formulate resiliency solutions.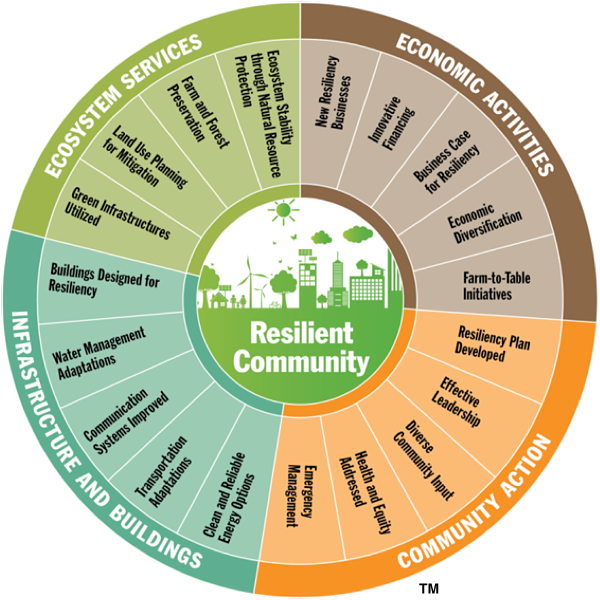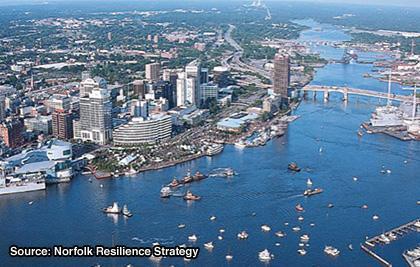 Cities in Hampton Roads have identified infrastructure adaptation, land use planning, and social equity as critical resiliency components. For example, Norfolk's Resilience Strategy has set three basic goals: 1) Design the Coastal Community of the Future; 2) Create Economic Opportunity by Advancing Efforts to Grow Existing & New Industry Sectors; 3) Advance Initiatives to Connect Communities, Deconcentrate Poverty & Strengthen Neighborhoods.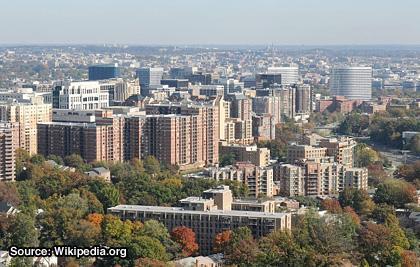 The
Northern Virginia Regional Commission
has brought together regional cities and counties to create a "Roadmap to Resiliency" that seeks to 1) assess risks and vulnerabilities from stormwater and floods, sea level rise, and urban heat extremes; 2) identify critical infrastructure, including buildings, energy systems, and civil infrastructure; and 3) develop policy directions and project databases of potential mitigation/adaptation solutions. View their
Resilient Critical Infrastructure Report
.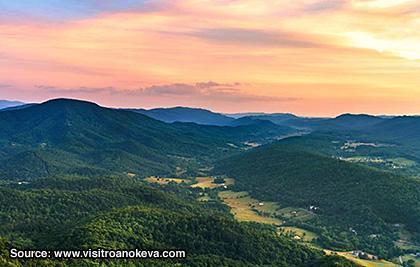 In rural communities resiliency plans need to address systemic economic stressors, such as the viability of agricultural enterprises in the face of environmental, climate, and market risks; health and educational challenges; and broadband connectivity, that are major ongoing challenges. See the West Piedmont Economic Development District's Comprehensive Economic Development Strategy report.

How Resilient Virginia Can Help Your Community
Resilient Virginia can be a critical factor at both the state and local levels in moving resiliency initiatives forward.
Resilient Virginia's Approach
Bring a statewide approach to the forefront to highlight the diverse risks being addressed by communities across the Commonwealth;
Work across institutional and political silos to educate multiple community elements;
Build collaborative relationships so that communities are more inclusive, cohesive, and productive when addressing their challenges; and
Activate communities to strengthen physical and societal infrastructure so they continue to function as centers of production, sources of essential services, and equitable communities despite challenges.
Our Goals
To inform diverse community representatives around the Commonwealth about natural, climate-related, and man-made challenges;
To educate key groups about models for community resiliency planning; and
To activate these communities to engage in resiliency plan development.
Resilient Virginia Provides
A hub for information on resiliency planning, climate change, preparedness, environmental challenges, energy security, economic stressors, health and social equity, and national security threats;
Workshops and training for local governments and community organizations on planning "how-to's" and high priority issues that impact resiliency strategies; and
New Feature: Resiliency News Feeds
We recommend these blogs to keep you informed about: local and national climate news, 
The Daily Climate
; clean energy progress in Virginia and the Southeast USA, 
Southeast Energy News
; and being prepared for climate change, pandemics, and other disasters, 
Recovery Diva
.
Thanks to Our 2022 Resiliency Academy Sponsors