Resilient Virginia was established in 2014 with the mission of accelerating resiliency planning in communities across Virginia. The organization has an extended history of working in the state since 1995, as Virginia Sustainable Building Network.
Our Vision

Virginia communities — whether they are coastal, urban, or rural — will gain access to the tools they need to better plan for and adapt to climate, environmental, social and economic challenges, while remaining healthy, vibrant, and secure places to live, work, and raise future generations.
Our Values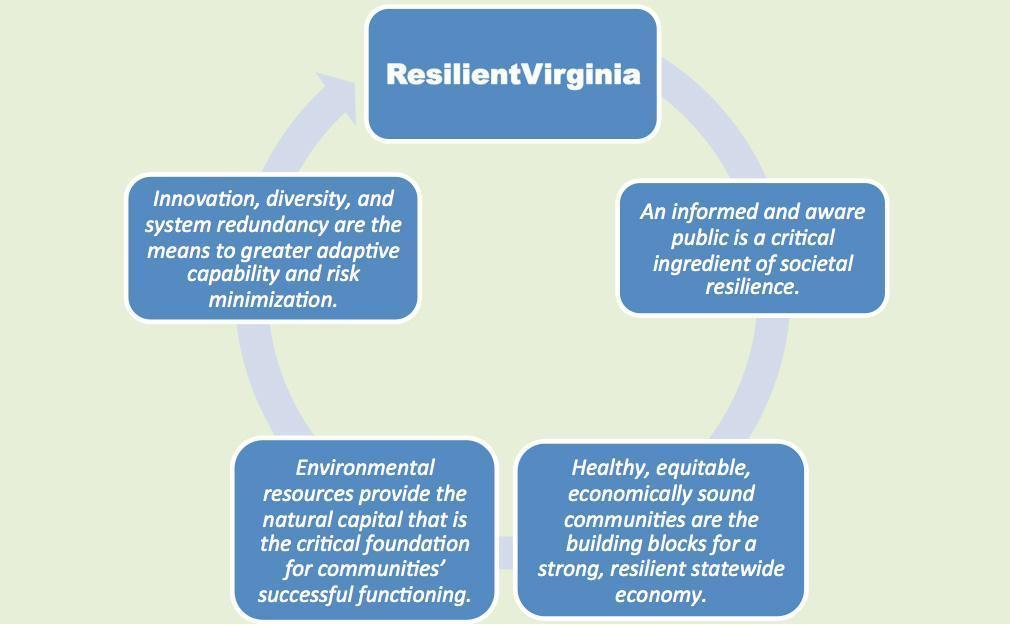 Our Accomplishments
Highlights include:
Established our resiliency organizational goals in 2014;
Organized a Launch Meeting in 2015, with guest speakers including Virginia Secretary of Public Safety Brian Moran, Brenden McEneaney, Director for Urban Resilience, National League of Cities, and Steven McNulty, Ph.D., Director, USDA Southeast Regional Climate Hub;
Created a website and newsletter to bring resources to the public and stakeholders;
Held a "Virginia Resilient Future" brainstorming meeting with invitations across silos and including newly appointed Secretary of Natural Resources Matthew Strickland and Secretary of Agriculture & Forestry Bettina Ring, as well as representatives of state agencies, universities, interest groups and the private sector in February 2018;
Held the first Rural Resiliency Forum in October 2018; and
Developed and hosted statewide conferences — 2016, 2017, 2019 — with support of Virginia Department of Emergency Management and other state agencies, universities, and the private sector.
See more on our Accomplishments in the slideshow below.
Resilient Virginia's First 6 Years
Our Background
Resilient Virginia Staff and Board Members recognized the need for a statewide organization to bring resiliency information, tools, resources, and guidance to communities across the Commonwealth, and established the organization in 2014.
Resilient Virginia was formed to build on the successes of a prior organization, Virginia Sustainable Building Network (VSBN), which carried out educational activities in Virginia, centered around Green Building and Sustainable Development, since 1995. In 2014 the staff and Board of Directors of VSBN decided to leverage the extensive experience and state-wide networks of that organization to reformulate a new entity that could facilitate a wider mission of enhancing resiliency planning. Resilient Virginia's Board of Directors and staff together bring to the organization a 20 plus-year history and wide range of experience, from our prior organization.
As VSBN, which had the mission of promoting Green Building and Sustainable Development, we initiated a wide variety of educational programs, including:
Technical training for architects, builders, engineers, energy auditors, and facility managers;
Informational and networking forums for local governments, community leaders, and K–12 and higher education managers; and
Insightful seminars on cutting edge ideas, including "one planet living," "sustainable real estate development," "clean-energy-powered communities," "policies for sustainable growth," and "net-zero buildings," which took place around the state as well as in the Mid-Atlantic region.
We have worked with public, private, and academic partners to organize statewide sustainability conferences since 1999. These have included:
The Virginia Sustainable Future Conference Series (1999, 2001, 2003);
The 2008 Commonwealth of Virginia Energy and Sustainability Conference: Meeting the Climate Change Challenge; and
The 2013 Virginia Commonwealth University Energy and Sustainability Conference, which focused on business sustainability.
We have also developed and carried out state-level programs, working as contractors with the Energy Division of the Virginia Department of Mines, Minerals and Energy, as well as with funding support from other federal agencies and foundations. VSBN program accomplishments included:
Initiation of a voluntary Green Building program, Earthcraft Virginia, that was adopted by the Home Builders Association of Virginia;
Creation of a Mid-Atlantic "Sustainable Development" workshop series for developers and builders;
Success in moving local governments, school districts, universities, and private companies to adopt sustainability policies and practices in their building design, construction and operations;
Incentivizing of community energy efficiency and sustainability initiatives through a small grant program for public and non-profit entities; and
Development and implementation of a state-wide network of trained and Building Performance Institute (BPI)-certified Energy Auditors and Contractors.
The Need for Resilient Virginia
In the United States, and globally, there are increasing numbers of risks to the normal functioning of communities. These challenges are more frequently taking the shape of climate-driven and natural disasters, such as tornadoes, floods, hurricanes, wildfires, heat waves, and earthquakes. Human-induced stressors also abound, including acts of terrorism, economic inequality, and social unrest.
The U.S. government, as well as national organizations and state governments, have recognized that dealing primarily with post-disaster or post-crisis provision of emergency services and rebuilding efforts is costly and inadequate. In contrast, communities that proactively take steps to address basic resiliency preparedness will be most successful in strengthening community relationships that bolster the ability to function in the event of disruptive events and long-term environmental or economic conditions.
While the term resilience has a number of interpretations, resilience is commonly defined as the capacity to maintain or regain functionality and vitality in the face of natural or man-made disturbances. For the long term, community resiliency provides the ability to adapt and thrive despite changing environmental, social, and economic conditions.
Resilient Virginia recognizes that Virginia, as part of the Southeastern United States, faces environmental and climate challenges, as reported in the
National Climate Assessment
that include:
Sea level rise, which poses widespread and continuing threats to both natural and built environments, as well as the regional economy;
Rising temperatures and the associated increase in frequency, intensity, and duration of extreme heat events, which will affect public health, increase mortality, and will affect natural and built environments, energy, agriculture, and forestry;
Decreased water availability, exacerbated by population growth and land-use change, which will continue to increase competition for water and impact the region's economy and unique ecosystems; and
An increase in extreme weather events, such as the derecho which struck in 2012, hurricanes and severe thunderstorms, and even tornados, which result in flooding, property damage, and power outages.
In addition, our communities deal with a variety of man-made stresses.
As part of the international community, we face the possibility of man-made threats, such as acts of terrorism, as well as health emergencies and pandemics.
Globalization of businesses, national recessions, and shifting state economics result in societal stresses that can manifest themselves in loss of employment opportunities, increased community violence, homelessness, a decline in medical services, and local food insecurity, with already vulnerable neighborhoods being most impacted.
The program concept for Resilient Virginia is based on a variety of federal and private initiatives including:
There is basic agreement among these sources about the need for:
Building a national campaign to strengthen and sustain national resilience,
Working with key stakeholder groups to develop and share models for resilience,
Building the knowledge and talent base for resilience,
Building public awareness and motivating individual and community engagement,
Facilitating community-based resilience assessment by developing a community-based, all-hazards methodology and toolkit, and
Enabling community-based resilient infrastructure initiatives.