Resilient Virginia was established in 2014 with the mission of accelerating resiliency planning in communities across Virginia. The organization has an extended history of working in the state since 1995, as Virginia Sustainable Building Network.
Our Vision

Virginia communities — whether they are coastal, urban, or rural — will gain access to the tools they need to better plan for and adapt to climate, environmental, social and economic challenges, while remaining healthy, vibrant, and secure places to live, work, and raise future generations.
Our Values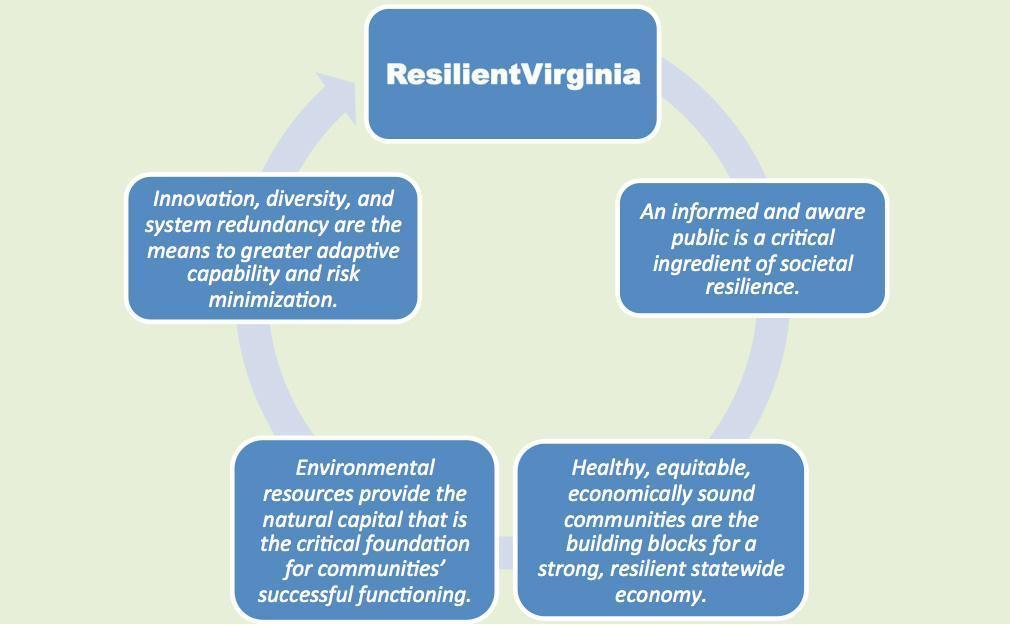 Our Mission
Our mission is to accelerate resiliency planning in communities across the Commonwealth.
Our Accomplishments: The First Seven Years
Looking Forward – 2022 and Beyond
Resilient Virginia will be working on these projects:
Inviting partners to join us in promoting the Virginia Can't Wait theme
Hosting a Fall 2022 Resiliency Academy Series
Developing a Regional Resiliency Collaborative for Central and Southwest Virginia
Working Directly with Localities on Resiliency Planning
Expanding our Resource Hub for Resiliency Information
Initiating a Resiliency Star Speaker Series
Planning our 2023 Resilient Virginia Conference
For more information on Resilient Virginia's plans for 2022 and beyond, read our latest Strategic Plan (July 2021–June 2026).
To keep up to date on resiliency news, please sign up to receive our quarterly newsletter.
To support our initiatives, we invite you to sign on as an Annual Sponsor or Member.