Utilities of the Future: October 4 at the U.S. Navy Memorial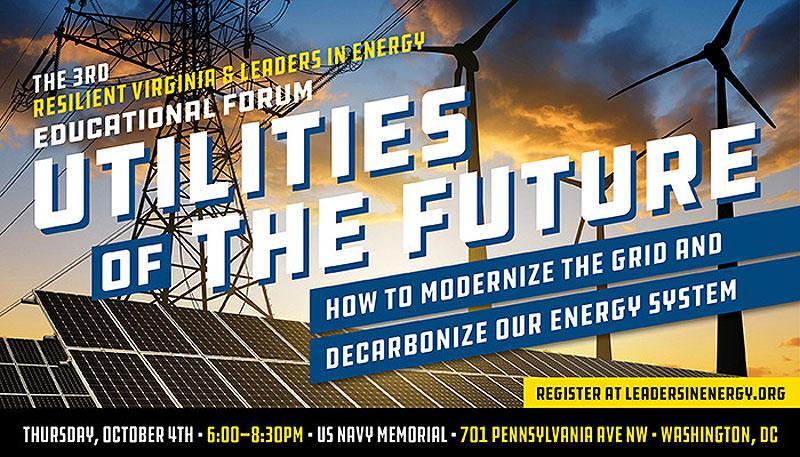 Register now for Utilities of the Future: How to Modernize the Grid and Decarbonize Our Energy System, the 3rd Resilient Virginia and Leaders in Energy Educational Forum.
New technologies and policies are leading to substantial changes in the energy sector.  How can the Utilities of the Future be a key driver in decarbonizing our energy system?  How will the future electric grid enable customers to change how they purchase and sell energy?
This Leaders in Energy event, in partnership with Resilient Virginia, will explore these questions and related topics (see these listed below) to examine pathways to a new paradigm for the electric grid.  Our industry experts are from the Edison Electric Institute, the Environmental Defense Fund, and the Massachusetts Institute of Technology (MIT)  Energy Initiative.
This will be an excellent opportunity to meet those in our Leaders in Energy community who are interested in and working on these issues.  See the recap article here on our utility event last year at the Edison Electric Institute last year to learn more about this popular event.
Register Here
This event will take place at the U.S. Navy Memorial and will feature speakers and topics such as:
grid modernization, electrification, and the future of the electric grid
distributed energy resources, including renewable energy, storage, and demand management
transactive energy and a participatory grid
the potential for decarbonizing the grid
disruptive technologies and policies that can facilitate an evolved electric grid
setting expectations — optimistic vs realistic scenarios on the pace of change over the next few years
Location (Please note: The event venue has recently changed from the Edison Electric Institute to the U.S. Navy Memorial which is located at the same address and Metro Station. The time has been changed from 5:30 to 6:00 pm): 
US Navy Memorial
701 Pennsylvania Avenue, NW
Washington, DC 20004 (Archives-Navy Memorial-Penn Quarter stop on Metro's Yellow and Green Lines is located near the U.S. Navy Memorial.)
Admission:
Ticket includes program, pizza, and beverages. Early bird prices are available through Thursday, September 27th. Jobseeker and student pricing also available.