By Annette Osso, Managing Director, Resilient Virginia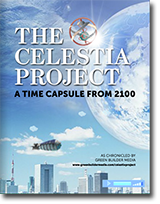 Earth Day 2015 is just around the corner, and this year Resilient Virginia would like to share with our readers an inspirational vision of the future. This comes through our exclusive sneak peak of the ebook on The Celestia Project, which will be unveiled officially by Green Builder magazine on this Earth Day. Over the past year, chapters of The Celestia Project were featured in issues of the magazine.
The Celestia Project, created by Matthew Power, Editor-In-Chief of Green Builder magazine, presents a time capsule from the year 2100. The interactive publication takes on such topics as food security, low impact transportation, successful urban living, energy use and decarbonization, fresh water abundance, and resilience in buildings and communities.
Matthew Power provides this perspective:
"This project is really the culmination of a lifetime of writing, researching and advocating for more sustainable homes and lifestyles. It took a year to write, but many years to gather and process the ideas. It came about as a response to the prevailing dystopian views that pervade our culture. The Celestia Project argues that we don't have to starve to death, wallowing in our own rubbish, chased by our runaway robots. Instead, we can do what needs to be done to save ourselves: wrestle with human nature, harness our technology, and build a better, greener world."
You can view the entire interactive ebook here.
About Green Builder magazine
This magazine is oriented toward residential building professionals, but also has excellent annual "Homeowner's Handbook" and "Sustainable Landscaping Guide" issues which make it interesting reading for anyone interested in low impact living. Go to https://www.greenbuildermedia.com/ for more information.