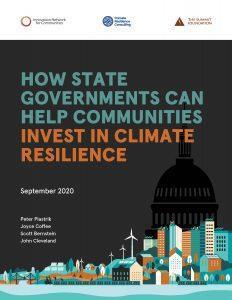 As the climate changes, different communities will experience different impacts, localizing the challenge of resilience. However, local governments don't often have the capacity (financial and otherwise) to cope completely with the climate risks they face.
Because of this, state governments are under increasing pressure to take responsibility for protecting life, property, and business from climate hazards.
Helping local communities build climate resilience can reap huge rewards for the state, including improved quality of life, reduced climate-disaster impacts, and increased economic stability for their constituents.
This report provides a State Climate Resilience Checklist to help state government leaders and stakeholders identify the essential actions they need to take to build a comprehensive approach to resilience.
Read More
How State Governments Can Help Communities Invest in Climate Resilience