The 2019 Resilient Virginia Conference
Connecting Rural and Urban Communities for a Resilient Future
July 18–19, 2019 | Charlottesville, Virginia
Read about our third statewide conference on resiliency!
Resilient Virginia held its 2019 Resilient Virginia Conference on July 18–19 at the Darden School of Business, University of Virginia, Charlottesville, Virginia. A photo gallery of this event appears below; event presenations will be posted soon.

This year's theme, Connecting Rural and Urban Communities for a Resilient Future, highlights the roles of Virginia's rural and urban communities in addressing challenges they face from increased disruption by extreme weather events, climate change, national security risks, and on-going concerns related to economic and community health.
The 2019 Resilient Virginia Conference brings together participants from state and local governments, local and national businesses, and representatives from higher education and community organizations to learn about a diverse array of resiliency topics — ranging from resilient building and infrastructure design, reducing emissions from the transportation sector, resiliency in mitigation and emergency management planning, health and equity concerns, economic opportunities, and the role of ecosystems and agricultural practices in mitigation.
Participants will:
Gain insights on Governor Northam's resiliency initiatives;
Develop an understanding of resiliency progress in Virginia jurisdictions and in neighboring states;
Engage in networking with resiliency businesses, government representatives, and institutional and community organizations; and
Take away tools that can be used for resiliency planning in their own communities.
The 2019 Resilient Virginia Conference is a certified Virginia Green event.
---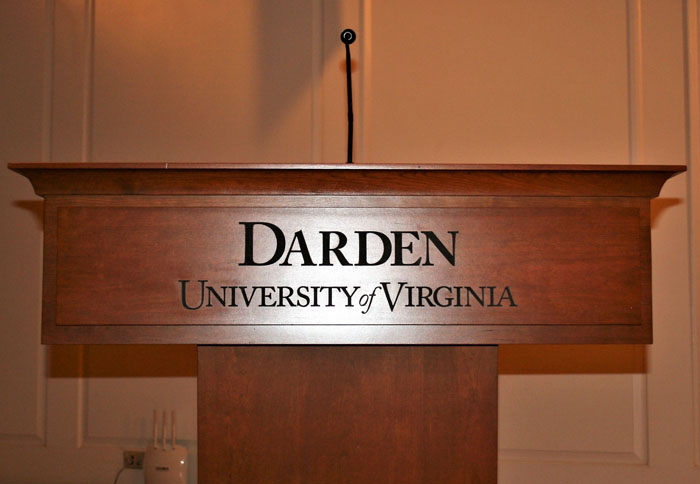 Click to launch slideshow
---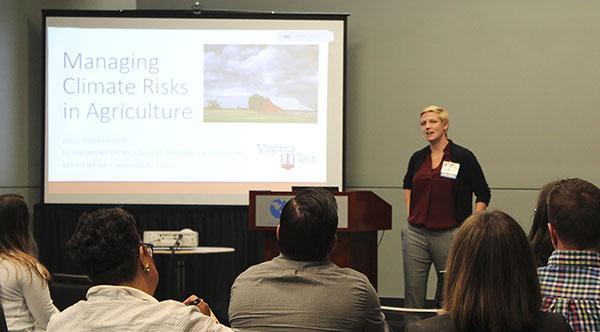 Agenda & Speakers
The 2019 Resilient Virginia Conference provides a unique and multi-faceted forum to inform, educate, and activate communities across Virginia about the benefits of resiliency planning.

THURSDAY, JULY 18
7:00–8:45 am
Registration and Continental Breakfast with Exhibitors
8:45–9:00 am
Plenary Session 1 – Main Auditorium
Welcome and Recognition of Sponsors
Andrew Sorrell, Chairman, Resilient Virginia, and Deputy Director, Tobacco Commission
Annette Osso, Managing Director, Resilient Virginia


Click to launch Introduction Presentation

9:00–10:15 am
Panel: Setting the Stage – Addressing Challenges and Finding Solutions
Speakers:

Joshua Saks, Deputy Secretary of Natural Resources, Commonwealth of Virginia
Karen McGlathery, Ph.D., Director, Environmental Resilience Institute and Professor, Department of Environmental Sciences, University of Virginia
Brad Townsend, Senior Solutions Fellow and Innovation Director, Center for Climate and Energy Solutions
Jane English, Environmental and Climate Justice, NAACP

Click to launch Joshua Saks Presentation

Click to launch Karen McGlathery Presentation

Click to launch Brad Townsend Presentation

10:15–10:30 am
BREAK with Exhibitors
10:30 am–12:00 pm
Morning Breakout Sessions


Noon–1:00 pm
Lunch and Networking — Main Dining Hall
1:00–2:15 pm
Plenary Session 2 — Main Auditorium
Rural and Urban Resiliency: A Dialogue on Interdependence
Moderator: Jonah Fogel, Ph.D, Program Manager, Environmental Resilience Institute, UVA
Speakers:

Anthony Flaccavento, Founder and President, SCALE: Sequestering Carbon, Accelerating Local Economies
Amy Thompson, AICP, LEED AP ND, Senior Planner and Jon Penndorf, FAIA, Sustainability Leader, Perkins + Will

Click to launch Anthony Flaccavento Presentation

Click to launch Amy Thompson Presentation

2:15–2:30 pm
BREAK with Exhibitors
2:30–3:30 pm
Afternoon Breakout Sessions


3:30–3:40 pm
BREAK with Exhibitors
3:40–4:40 pm
Late Afternoon Breakout Sessions


4:45–5:45 pm
Plenary Session 3: Main Auditorium
Moving Virginia Forward — Policy and Programs
Speakers:

Jewel Bronaugh, Commissioner, Virginia Department of Agriculture and Consumer Affairs
Chris Wiegard, Virginia Co-Coordinator, Citizens Climate Lobby
Lee Williams, Co-Coordinator, Virginia Green New Deal
Karla Loeb, Charlottesville Renewable Energy Alliance/Chief Policy and Development Officer, Sigora Solar

Click to launch Jewel Bronaugh Presentation

Click to launch Chris Wiegard Presentation

Click to launch Lee Williams Presentation

5:45–7:00 pm
RECEPTION WITH EXHIBITORS
FRIDAY, JULY 19
7:30–8:45 am
Registration and Continental Breakfast with Exhibitors
8:45–10:00 am
Plenary Session 4: Main Auditorium
Panel: Resilience Progress: Virginia and the Region
Moderator: Steve Walz, Environmental Program Director, Metropolitan Washington Council of Governments
Speakers:

Steve Walz, Environmental Program Director, Metropolitan Washington Council of Governments
Climate Action Together (CAT) Team

Andrea Trimble, CEM, LEED AP BD+C, O+M, Director, Office of Sustainability, UVA
Susan Elliott, Climate Protection Program Manager, City of Charlottesville
Narissa Turner, Climate Program Coordinator, County of Albemarle

Ben McFarlane, Senior Regional Planner, Hampton Roads Planning District Commission

No presentations were used for this session.

10:00–10:15 am
BREAK WITH EXHIBITORS
10:15 am–12:15 pm
Creating Resilient Communities — Workshops


12:15–1:15 pm
BOX LUNCH AND VISIT EXHIBITORS
1:30–3:30 pm
Afternoon Sessions — Workshops for Creating Resilient Communities


3:30–4:00 pm
Ice Cream Social and Conference Closing — Breakout Session Area
---
Registration
Register today to reserve limited seating. Online registration only through July 12!
Non-Profit/Academic/Individual: $175
Government: $225
Business: $300
Student Registration: $30
JUST ADDED – ONE DAY REGISTRATION (Go to Eventbrite registration, scroll to the bottom of the Individual registration option, register for Day One or Day Two)
NOTE: An additional fee will apply for on-site registrations.
Full registration includes two days of plenary and breakout sessions, exhibit hall access, and breakfast, lunch, breaks, and an evening reception.
---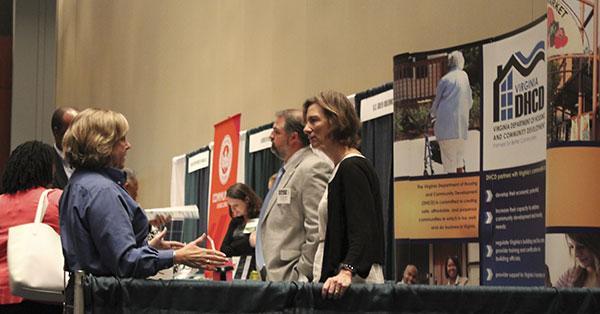 Sponsor and Exhibitor Opportunities
Exhibitor tables are filled! Find out about Sponsor opportunities here!
The 2019 Resilient Virginia Conference is an opportunity to showcase your organization's resiliency products, services, and programs to a highly focused audience.
Sponsors will receive extensive publicity before and during the conference, as well as an exhibit booth, presentation opportunities, and a special reception.
Thanks to these sponsors!
(As of 6/15)
Resiliency Visionary

Resiliency Champion

Resiliency Leaders

Resiliency Supporters

Resilient Friend

Breakfast Sponsor
---

Resilient Virginia Conference Partners
(As of 5/23)
Leaders in Energy
USGBC Virginia
Virginia Clean Cities
Virginia Association of Counties (VACO)
Virginia Department of Environmental Quality
Virginia Department of Mines, Minerals and Energy
Virginia Municipal League (VML)
Viridiant
---
Planning Committee
Conference Planning Committee
We are pleased that our Conference Planning Committee includes representatives from national organizations, state and local government, the private sector, and academia.
Leader
Annette Osso, LEED AP, Managing Director, Resilient Virginia
Committee Members
Elizabeth Andrews, Virginia Coastal Policy Center, W&M
Sharon Baxter, VA Department of Environmental Quality
Nell Boyle, City of Roanoke
Curtis Brown, Virginia Department of Emergency Management
Bob Burkholder, ClarkNexsen
Chase Counts, Community Housing Partners
Nicole Duimstra, Secure Futures
Jerry Eastridge, GSPH LLC
Jonah Fogel, UVA Environmental Resilience Institute
Jane Frantz, Dewberrry
Tracy Garland, Resilient Virginia
Ellen Graap Loth, Cardno
Jill Greiner, City of Charlottesville
Alleyn Harned, VA Clean Cities
Zane Havens, ClarkNexsen
Mary Carlyle Howard, Smithsonian Institution Changing Landscapes Initiative
Lisa Jeffrey, Hazen and Sawyer
Robin Jones, VA DMME
Rebecca Joyce, Central Shenandoah PDC
James Keck, Virginia Commonwealth University
Angela King, Virginia Coastal Policy Center, W&M
John McCarthy, Piedmont Environmental Council
Chris McDonald, Virginia Association of Counties
Denise McFadden, 2rw Consulting
Tonya Neaves, George Mason University
Denise Nelson, The Berkley Group
Speaker Pollard, Williams Mullen
Marci Posey, Small Business Administration
Meghan Quinn, VA Department of Environmental Quality
Michael Reilly, Slow Money
Kristel Riddervold, City of Charlottesville
Cliona Robb, Christian & Barton
Monica Rokicki, Better Building Works
Maureen Roskoski, Facilities Engineering Associates PC
William Scarpinato, AECOM
Ryan Snow, USGBC Resilience
Andy Sorrell, Tobacco Commission
Sarah Spengeman, Health Care Without Harm
Janice Stroud-Bickes, USDA Rural Development
Steve Sunderman, Terrazia
Erin Sutton, City of Virginia Beach
Robbie Talbert, VA Department of Forestry
Sirirat Tavanapong, Jacobs
Vestal Tutterow, Lawrence Berkley National Laboratory
Matt Wade, VA Clean Cities
Tod Wickersham, Beneficial Results
Cindy Zork, USGBC Virginia

---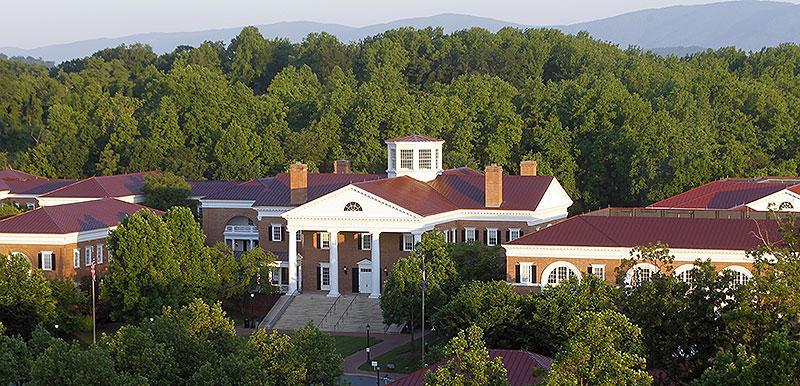 Conference Venue Information
The Darden Inn rooms reserved for the Resilient Virginia Conference are no longer available. We suggest using a search site such as this one to find other options for hotels near the UVA Darden School.
The conference venue for 2019 is the University of Virginia Darden School of Business. We are pleased to hold this event at a facility with a significant commitment to sustainable business practices that include physical and operational improvements, such as composting, recycling, and energy-use reduction, to reduce environmental impact. Darden is now a zero-carbon facility, due to its commitment to purchase the entire output of a 160-acre solar facility, and plans to be a carbon-neutral enterprise by 2020. Darden was awarded the Virginia Green Travel Star Award in recognition of its accomplishments.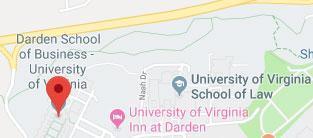 Conference Center Location
Darden School of Business
University of Virginia
100 Darden Boulevard
Charlottesville, Virginia 22903
Hotel Information
The UVA Inn at Darden is the official host of the 2019 Resilient Virginia Conference and we invite you to stay on‑site. Participants can take advantage of a special $129 per night rate at UVA Inn at Darden. This special rate includes daily gourmet breakfast buffet, high-speed WiFi, and garage parking.
There are three easy ways to reserve your room at UVA Inn at Darden:
1) Book directly online at http://bit.ly/2MjSGkk
2) Call our Gatehouse Staff at 434-297-7384
3) Email our Gatehouse Staff at GatehouseStaff@Darden.Virginia.edu
Please reference "Resilient Virginia" if calling or emailing our team.
Reservation Deadline is June 15.
---
Contact info
For more information on the 2019 Resilient Virginia Conference, please contact:
Annette Osso, LEED AP, Managing Director, Resilient Virginia
Mobile:
(703) 629-1650
E-mail:
osso@resilientvirginia.org
Mail:
Resilient Virginia
PO Box 6539
Arlington, VA 22206
Registration Questions? Please send an email to Tracy Garland, Social Media Director, at garland@resilientvirginia.org.