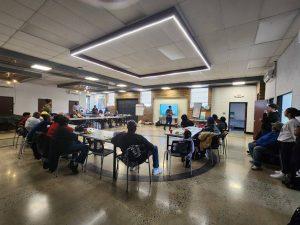 The first phase of Lynchburg Rising worked to identify climate-related environmental problems that are prevalent in the low-income, minority neighborhoods in Ward 2 with initial community engagement in four neighborhoods – Diamond Hill, Fairview Heights, Tinbridge Hill, and White Rock Hill. Utilizing the momentum created through phase one, the funding from the EJ Collaborative Problem Solving Program will be used to expand engagement with community members from one or more of these neighborhoods into an extensive visioning and goal setting process in order to address environmental and equity concerns and enable them to be proactive in addressing these concerns.
During year two of this second phase of the project, community capacity-building  and leadership development will take place through informational and technical workshops that will provide residents with the skills, information, and resources they can utilize to be proactive  in ensuring the safety, health, and well-being of their families. In addition, the goal will be to identify neighborhood leaders who can be the  environmental justice representatives that could be involved with the regional resiliency planning effort, which is just getting underway by the Central Virginia Planning District Commission.
We look forward to continuing our work in and engaging with these Lynchburg communities.