By Nell Boyle, Chairperson, Board of Directors (2016–2018)
Resilient Virginia invited its members and various stakeholders to the 2018 Resilient Virginia Annual Meeting and launched the featured topic for the upcoming year, "Resiliency and the Rural/Urban Interface." There was a full house at Charlottesville's CitySpace on Thursday, July 19. The meeting opened with networking and lunch, followed by a brief update on the activities and accomplishments of the organization over the past year. Resilient Virginia introduced our new Board of Directors and the newly formed Advisory Committee.
The Rural-Urban Interface and Resiliency Panel
The highlight of the afternoon was a panel discussion with five subject matter experts featuring Virginia's new emphasis on rural-urban interdependence, with speakers on building resilient communities through rural economic development, green infrastructure valuation, and the farm-to-table movement.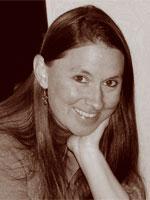 To open the event, Kristel Riddervold, Charlottesville's Environmental/Sustainability Manager, gave an outstanding example of how Charlottesville and Albemarle County have collaborated through a cooperative Memorandum of Understanding and have leveraged their resources to better serve the community. A number of projects and actions have been enhanced, such as: the Jefferson Area Bike-Pedestrian Master Plan; regional GHG emissions reporting; technical and educational opportunities; and housing redevelopment and the environment. In addition, they have embarked on a regional dialogue regarding the Rivanna River Corridor Plan, so that all perspectives can have a voice in the development of that shared resource.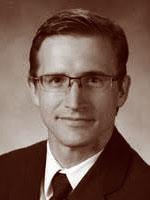 Next, Deputy Director of the Virginia Tobacco Commission, and new Resilient Virginia Board Chair, Andy Sorrell, updated the group on the Virginia initiatives for universal and functional broadband. The lack of high speed internet is affecting economic development in rural areas by limiting business development and retention, as well as impeding proper education for our children. In July 2018, Governor Ralph Northam appointed a Chief Broadband Advisor to develop and deliver a plan to address universal broadband to all Virginians. In 2018, the General Assembly increased the budget for this project from $2 million to $8 million to accelerate the service delivery of this critical need and the Tobacco Commission has committed $11 million to broadband expansion.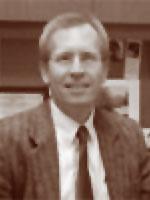 Virginia has a long history of producing agricultural products and a strong farm community, making the local food system an important economic driver. Eric Bendfeldt from the Virginia Cooperative Extension, who works as the Extension Specialist in the Community Viability Program, spoke about the economic health of the local food system. Current market conditions have taken a heavy toll on Virginia farmers and on the local food system. Eric reminded us of the value of the local food system that provides safe and accessible high quality of nutrition to small, rural communities; contributes to the retention of small- and medium-sized farms; and provides benefits to local schools, businesses, healthcare, and educational institutions.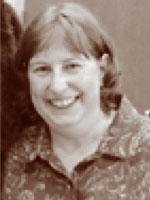 Rebecca Joyce represented the Central Shenandoah Regional Commission, which services the primarily rural, west-central part of Virginia. She identified several key factors when considering the interdependent nature of communities in an emergency situation. She used the term "coastal refugees" for people that will need to leave the coastal area in the event of a major weather event and their consequential migration to more centrally located ground. Rural areas have emergency funds that meet the needs of the local community in a disaster, she commented; however, they are not prepared to handle an influx of displaced people as well. And certainly, a powerful storm on the coast will move across the state, causing storms and flooding in its path. Therefore, there is a critical need to prepare for the needs of the refugees and the rural areas that are likely to house them.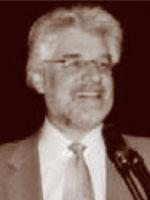 Finally, Eldon James, Coordinator of the Rappahannock River Basin Commission, gave an overview of the three phases of the Virginia's Healthy Watershed Study. This fascinating study has quantified the important interconnection between forest land and watershed health. The report also cites attractive financial models for the land owners that could potentially leave these large tracks of forest intact. He connected the value of green and blue infrastructure as a critical component to clean, healthy watersheds and the success of the local economy.
The discussion continued with questions from the audience and a lively conversation carried over as we all enjoyed a delicious ice cream treat from Splendora, a Charlottesville business.
The Annual Meeting just touched on the many serious discussions that will take place at Resilient Virginia's Rural Resiliency Forum in Staunton, Virginia on Tuesday, October 23rd. More details will be provided in the upcoming weeks. Please save the date for this important event.
In closing, I have completed my term as Chair of Resilient Virginia, and it has been my honor to serve this wonderful organization and work with all of our committed board members and stakeholders. I will stay on as Past Chair and look forward to the exciting events of next year. I am happy to announce our new officers and welcome our new board members.
Board of Directors: 2018–2019
New Officers
Chairperson
Andrew V. "Andy" Sorrell, Deputy Director, Virginia Tobacco Commission
Vice Chair
Ellen Graap Loth, Principal, Cardno, Inc.
Secretary
Jane Frantz, AICP, PMP, CFM, Associate Vice President, Dewberry
Treasurer
Vestal Tutterow, PE, CEM, Program Manager, Lawrence Berkeley National Laboratory
Directors
Jerry Eastridge, LLA, BPI, Principal, GSPH LLC
Rebecca Joyce, Community Program Manager, Central Shenandoah Planning District Commission
Steve Sunderman, RA, LEED AP BD+C, BPI, President, Terrazia PC
Erin Sutton, MS, CEM, PMP, Director, Office of Emergency Management, City of Virginia Beach
Past Chair
Nell Boyle, LEED AP, Sustainability Coordinator, City of Roanoke
In our next newsletter we will be highlighting Resilient Virginia's newly formed Advisory Committee, which will provide expert guidance on program direction and project implementation.
Finally, thanks to everyone who supports the important work of Resilient Virginia. This conversation is more important now than ever before!
— Nell Boyle, LEED AP, Sustainability Coordinator, City of Roanoke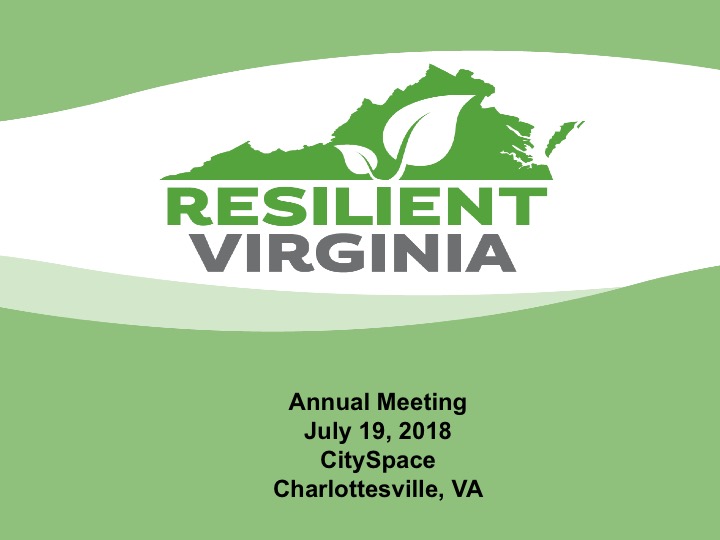 Click to launch slideshow