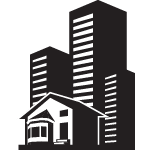 Design decisions for buildings and communities are critical to efforts to increase local and regional resiliency. Building designers — of residential, institutional, and commercial structures — should strive to incorporate passive and active survivability concepts into new and renovated structures.
Community planners and developers need to incorporate concepts that increase the capacity to maintain transportation flow, strategies to handle water management, and infrastructure approaches that will withstand a variety of risks.
The objective of the National Institute of Standards and Technology's (NIST) Disaster Resilient Systems Program is to develop and deploy advances in measurement science to
Read More »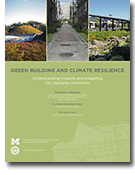 This report from the University of Michigan and the U.S. Green Building Council (USGBC) includes regional impact information and building adaptation strategy. For the Southeast U.S. these include: sea-level rise; increased heat-related stresses for people, plants and animals; decreased water availability; and increased damage from higher intensity hurricanes and storm surges.
Read More »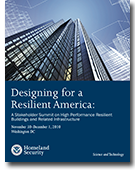 Given the gravity of manmade and natural hazard events of the last decade, designing buildings that not only offer resistance, but continue to function after a catastrophic event, are significant challenges to government and the building industry. The National Infrastructure Advisory Council (NIAC) has recommended better understanding of the role of design and construction in infrastructure resilience.
Read More »