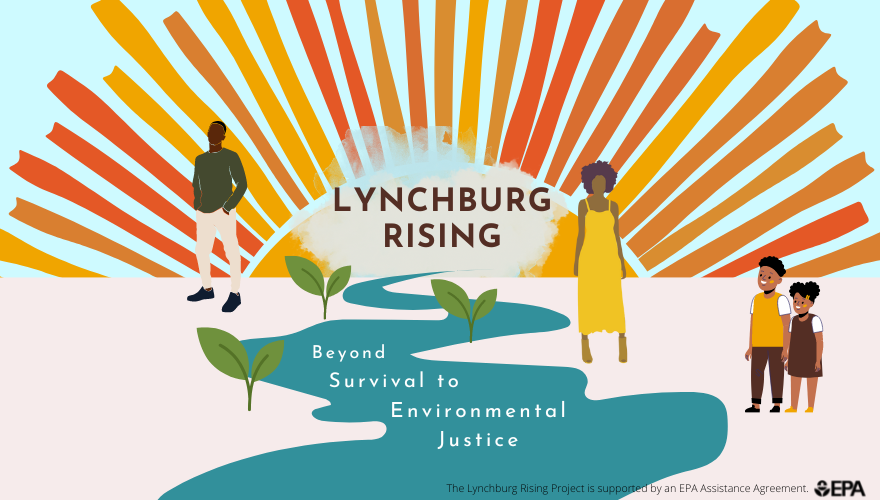 Press Release – August 15, 2022
Environmental Justice and Flooding the Focus of Lynchburg Project
CONTACT: Annette Osso, Managing Director, Resilient Virginia
osso@resilientvirginia.org; 703-629-1650
A new project, funded by the U.S. Environmental Protection Agency Office of Environmental Justice and led by Resilient Virginia, has started up this summer to assist historically underserved people in flood prone neighborhoods of Lynchburg. The project, titled Lynchburg Rising: Beyond Survival to Environmental Justice, will invite people to tell their stories about how flooding has impacted them, and will bring resources and workshops to four neighborhoods to help residents with flood issues.
The project is supported by two Lynchburg-based consulting groups – Leslie King Consulting and Sobis, Inc. Leslie King is an experienced equity and engagement consultant who will lead the neighborhood meetings and will organize a January conference on Race, Equity, and Social Justice, in conjunction with the local organization, Many Voices One Community. Bill Bohn, COO of Sobis, Inc., is an engineer and GIS analyst who will assemble and integrate data on demographics and flood hazards to help identify the neighborhoods that will be involved with the project.
The project will coordinate activities with Randolph College and University of Lynchburg's staff and students who are working with neighborhoods located in areas of the city that experience excessive heat issues during summer months. Additional partners, who will contribute to the project by hosting community meetings and providing flood and climate educational information, are Jubilee Center, City of Lynchburg, and Central Virginia Planning District Commission. Project updates can be found at the Lynchburg Risingwebsite.
Resilient Virginia is a 501-c-3 organization with the mission of accelerating resiliency planning in communities across the Commonwealth. They accomplish this by informing diverse community representatives about natural, climate-related, and man-made challenges; educating key groups on models for community resiliency planning; and activating these communities to engage in resiliency plan development.