Resilient Virginia has launched!
With leaders from government, the private sector, academia, and community organizations at the helm, this organization has started on its path of accelerating resiliency planning in Virginia communities.
Our focus is to INFORM the Commonwealth's diverse communities on the issues associated with community resilience. It is to EDUCATE residents about resilience concepts, and finally it is to ACTIVATE stakeholders to create sector-oriented action plans so that we are ready for changes in the climate, environment, and economy — whether those changes are natural or the result of human activity.
It is our VISION to ensure that adaptation to these challenges is made in a manner that provides for healthy, vibrant, and safe communities in which to live, work, and raise future generations.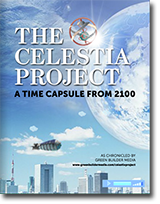 An example of the thought-provoking and useful resources Resilient Virginia brings to you is the direct link to The Celestia Project ebook, officially unveiled by Green Builder magazine on Earth Day 2015. Created by Matthew Power, Editor-In-Chief of Green Builder magazine, this interactive journal presents a time capsule from the year 2100. With the goal of providing a hopeful vision of the future, the journal looks at such topics as food security, low-impact transportation, vibrant urban living, energy use and decarbonization, fresh water abundance, and resilience in buildings and communities. You can read more about the ebook on our website at this link.
What Resilient Virginia has accomplished to date:
Website startup (resilientvirginia.org)
February 19, 2015 Launch Meeting (view presentations and pictures here)
Additional information sources identified
Partnership development continues
An active calendar of events around the state (resilientvirginia.org/calendar)
Fall Conference set for September 29 and 30, 2015.
We need your support!
To further our work of bringing you resiliency resources and action tools that address the many aspects of resiliency, we need your support! We are requesting that you:
Thank you for your interest in Resilient Virginia! Your support helps communities around the Commonwealth prepare for a successful future.