Featured Article
Resilient Virginia News
State and Local News
Regional and National Resources
What's New
COVID Brings Urgency to Climate Resiliency
by Tracy Garland, Social Media and Events Director, Resilient Virginia
The world is facing an unprecedented convergence of crises as the COVID-19 pandemic is compounding existing health, equity, economic, and environmental problems. Experts are weighing in on what the pandemic can teach us about climate change and how we can use this crisis to learn, adapt, and come out more resilient on the other side. Below, we briefly outline the issues with embedded links for those interested in a deeper dive.
The COVID crisis has highlighted in stark terms how unprepared we are against the threats posed by climate change. Delayed responses and political motivations, combined with the potential for overlapping crises, expose vulnerabilities in our foundational social, economic, and governmental institutions that must be addressed if we are to build resilience.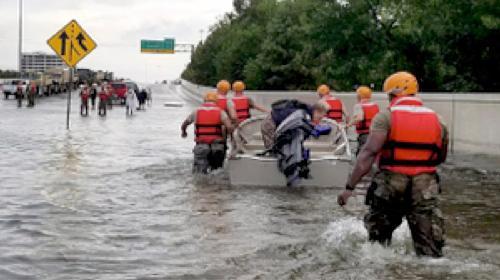 Credit: The Center for Climate and Security
Both the pandemic and the climate change crisis create severe disruption that translate into economic and financial risk that our institutions are not currently designed to manage. Actions that we take today to solve these problems may not have a clear and immediate impact. There is also an interplay between health crises and climate change. Evidence suggests that climate change and biodiversity loss may actually exacerbate the risk of animal-to-human–caused pandemic diseases, and can compound the effects of infectious diseases.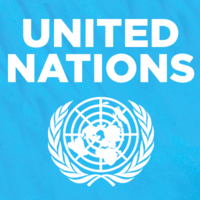 In an address to the Petersberg Climate Dialog in April, 2020, UN Secretary General António Guterres outlined actions for a climate-positive recovery and said, "As we plan our recovery from the coronavirus pandemic, we have a profound opportunity to steer our world on a more sustainable and inclusive path — a path that tackles climate change, protects the environment, reverses biodiversity loss, and ensures the long-term health and security of humankind. By making the transition to low-carbon, climate-resilient growth, we can create a world that is clean, green, safe, just, and more prosperous for all."
What remains to be seen is if we will learn valuable lessons from the COVID crisis and invest in strengthening our institutions, plans, and responses toward a more resilient future or if conflicting priorities in the face of a deflated economy will doom us to repeat history. Read more on the connections between COVID, climate, and resiliency at COVID, Climate Change, and Resilient Recovery, a new resource on the Resilient Virginia website.

Resilient Virginia News
Introducing Resilient Virginia's New Website
We are pleased to introduce our new website design that brings viewers:
A resiliency definition
Our mission, vision, and values
Why your community needs a resiliency plan
Components of a resilient community
Examples of resiliency planning in the state
Highlights of Resilient Virginia's accomplishments
Special features on the website include:
Links to three news blogs we highly recommend:
* The Climate Daily
* Southeast Energy News
* Recovery Diva
Volunteer opportunities — this special page allows you to help us spread the word about resiliency initiatives — and we would like to welcome our newest volunteer, Rachel Thoms, recent UVA graduate in Biological Sciences.
Finally, in the era of behind-the-scenes "essential workers" we want to thank Gerry Cervenka, Editype, Inc., our longtime web manager for his excellent and creative work on the Resilient Virginia website redesign.
We welcome your feedback on our new website! Please complete this short survey.
Introductions — 2020–2021
Resilient Virginia Board of Directors
OFFICERSChair
Steve Sunderman, RA, LEED AP BD+C, BPI,
President, Terrazia PC
Vice Chair
Ellen Graap Loth, Principal, Cardno, Inc.
Secretary
Jennie DeVeaux, Senior Executive Consultant for Resilience, Witt O'Brien's
Treasurer
Vestal Tutterow, PE, CEM, Program Manager, Lawrence Berkeley National Laboratory
DIRECTORSWilliam Bohn,
Chief Operating Officer, SOBIS, Inc.
Danielle DeHart,
Environmental Specialist, Stormwater Division, City of Roanoke —
Recently Joined!
Lisa Jeffrey, PE
, Senior Associate, Hazen
Angela Orebaugh, Ph.D.
, Principal, Tomorrow-Today—
Recently Joined!
And "Thank You" to Retiring Board MembersRebecca Joyce,
Community Program Manager, Central Shenandoah Planning District Commission
Andrew V. "Andy" Sorrell,
Deputy Director, Virginia Tobacco Commission
Erin Sutton, MS, CEM, PMP,
Director, Office of Emergency Management
,
City of Virginia Beach
Find more information about Resilient Virginia Board Members
here
.

State and Local News
Eat Local: COVID-19 or Not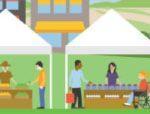 by Tracy Garland, Social Media and Events Director, Resilient Virginia
In very short order, the social distancing and shelter-in-place ordinances established in response to the COVID-19 pandemic have upended the way we purchase and consume food in Virginia and across the country. Now more than ever the fallout from the pandemic has shone a spotlight on the importance of an abundant local food supply for social and economic resilience.
Over the last few months, widespread restaurant and school closures left food wholesalers trying to shift distribution from those commercial outlets to retail grocery stores, a monumental logistical task. Consumers stocking up to shelter in place have found grocery store shelves increasingly sparse. As a result, demand for local food has increased, but traditional outlets like farmer's markets are facing challenges as well.
In response to the pandemic, Governor Northam's Executive Order 53 initially closed farmers markets as part of a statewide ban on public gatherings.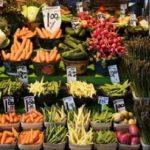 However, the Virginia Department of Agriculture and Consumer Sciences (VDACS) quickly issued clarification allowing farmers markets to remain open for delivery and/or takeout services and provided guidance for social distancing and recommended hygiene and sanitation protocols at the point of pickup.
So, this Spring, as farmer's market opening dates arrived, farmers and farmer's markets have worked to transition to online ordering platforms like Lu Lu's Local Food and Barn to Door, while consumers are flocking to sites like Local Food Hub in Charlottesville, LEAP Online Marketplace in Roanoke, and Local Line in Arlington to pre-order food for pick-up or delivery.
The pandemic has also highlighted issues of food insecurity. School closures mean that families who normally rely on free or low-cost school breakfasts and lunches find themselves scrambling to feed their children, and parents suddenly facing unemployment due to the pandemic face the same situation.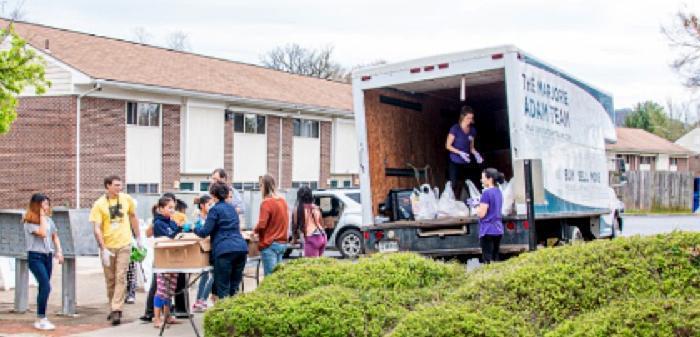 Credit: Mid-Atlantic Food Resilience and Access Coalition (MAFRAC)
In central Virginia, several groups, including the Charlottesville Food Justice Network, are working with the Local Food Hub, which has both set up drive-through markets and worked to deliver fresh food to low-income households.
On the regional level, organizations like the Mid-Atlantic Food Resilience and Access Coalition (MAFRAC) are coordinating efforts to bring local agricultural products to food access and social service organizations in the DC/Virginia/Maryland area.
Links for more information
Online sources for local foods

Guidance for Farmer's Markets


General Assembly Passes Landmark Bills
While it seems like a long time ago, the 2020 General Assembly did make significant strides in moving the clean energy economy forward, while supporting equity measures, resiliency, and funding support for climate mitigation.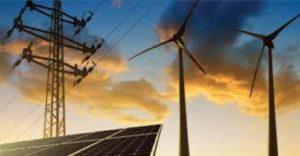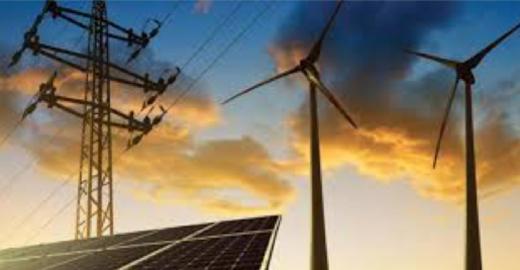 An overview related to clean energy, sustainable buildings, and resiliency was provided in the June 1 Virginia Legislative Recap webinar co-hosted by USGBC-Virginia and Resilient Virginia. Chelsea Harnish, Executive Director, Virginia Energy Efficiency Council and Elizabeth Beardsley, PE, Senior Policy Council, USGBC reviewed the impact and next steps of several far-reaching energy bills. They include the Clean Economy Act, the Clean Energy and Community Flood Preparedness Act, and legislation that establishes energy managers and benchmarking for state agencies, on-bill financing of energy efficiency measures through energy cooperatives, and energy-efficiency disclosures at the time of home purchases. Annette Osso, Managing Director, Resilient Virginia, presented information on two laws: one that codifies Governor Northam's Executive Order 24 by establishing a Virginia Chief Resilience Officer position, and a second that creates a statewide Commercial Property Assessed Clean Energy and Resilience Program (see the article below on C-PACER).
You can view the presentation PowerPoints here.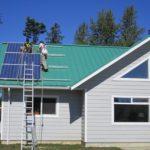 For an in-depth look at energy transition legislation in the Commonwealth, you can go to the Power for the People VA analysis by Ivy Main.
We also note that environmental justice and climate issues were addressed in this year's General Assembly with passage of HB 704, which states that it is the policy of the Commonwealth to promote environmental justice; the passage of HB 573, which requires utilities to invest in community solar pilot programs for low-income communities; and HB 585, which states that transit-oriented development should be considered in local government's comprehensive plans.

Report on Resiliency Proposals for the 2018 Virginia Uniform Statewide Building Code (USBC)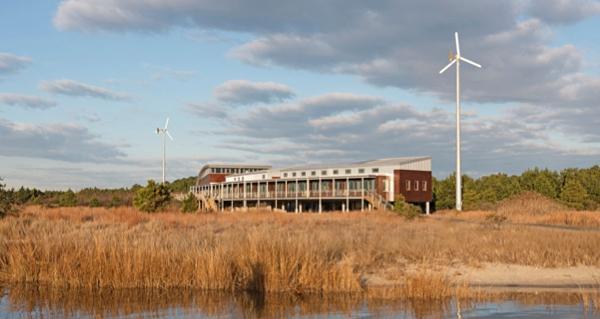 by Steve Sunderman, RA, LEED AP, BD+C, BPI, President, Terrazia PC and Board Chairman, Resilient Virginia
Photo Credit: Brock Environmental Center Chesapeake Bay Foundation
Background
In early 2019, as members of Resilient Virginia, Annette Osso and Steve Sunderman were invited to join the Resiliency Sub-Workgroup of the Virginia Board of Housing and Community Development, which is charged with recommending Resiliency measures for the 2018 Virginia USBC for possible statewide adoption by 2021. For this initial code update, due to limited time availability, it was decided to focus on basic flooding and high wind issues. An additional proposed recommendation focuses on the option of adding standby power systems in new construction of multifamily dwellings.
Current Status
The Resiliency Sub-Workgroup (RSW) conducted multiple meetings in Richmond during 2019 and 2020. The final meeting for the group took place in Norfolk on March 10, 2020. Each meeting consisted of reviewing, discussing, and reaching consensus on advancing each proposal that was submitted by the members. Final voting on all proposals concluded at the end of May 2020 via online survey. RSW recommendations will be submitted to the Main Workgroup for final consideration and possible implementation.
Proposals

There are a total of 13 proposals recommended by the RSW as follows:
B1612.4-18: Flood Hazard Documentation. This is an administrative change with no real facilities impact.
RB322.2.2-18: Residential Buildings Elevation Requirements. Increases resiliency by ensuring garages and carports are not enclosed in Flood Hazard Areas. It is not a technical requirement, but just forbids a practice already limited in flood prone localities.
RB322.3.3-18: Residential Building Foundations. Affects pile and column design in flood areas to increase resiliency.
B1612.2.1-18: Elevation Requirements for All Buildings. Adjusts all base flood elevation requirements to BFE+2 feet and increases resilience to flood damage.
B1804.8-18: Protection from Local Drainage. Reduces flood risk adjacent to buildings by requiring additional elevation in some flood areas.
RB35-19: Component and Cladding Load Tables. Incorporates advanced (2019) wind loading tables to increase resiliency.
B1709.5.2-18: Garage Doors and Rolling Doors. Clarifies that garage doors must be labeled and defines performance standards.
RB609.4-18: Residential Garage Door Labeling. Requires labels to be affixed and lays out design standards for garage doors.
RB301.2.1.1-18: Wind Limitations and Wind Design Required. Special wind region adopts the 2021 cycle changes.
RB200-18: Substantial Damage and Substantial Improvement. This is primarily to comply with flood regulations and mirrors definitions from the IEBC to the IRC.
A109.3-18: 2015 VCC Engineering Details. Requires that site plans include flood hazard information to improve agency review efficiency.
A113.3-18: 2015 VCC Minimum Inspections. Primarily concerns compliance with NFIP and using similar language.
A117.2-18: 2015 VCC Moved Buildings and Structures. Alters the Certificate of Occupancy approval process for flood hazard areas.
IMPORTANT DATES FOR PUBLIC INPUT INTO THE CODE PROCESS:June 26
Board of Housing and Community Development (BHCD) public hearing
July 3
New deadline for submitting proposals in cdpVA for the 2018 Code Change Cycle
To have input into the code development process, go to
https://va.cdpaccess.com/
.

Virginia's Statewide Commercial Property Assessed Clean Energy and Resilience (C-PACER) Program
by Daniel Farrell, Clean Energy Financing Programs Manager, VA DMME
Virginia is making it easier for localities to provide clean energy financing for building owners in their communities.
In 2020, the General Assembly authorized the Virginia Department of Mines, Minerals and Energy (DMME) to sponsor a statewide C-PACE Program. The newly passed bill also allows DMME to hire a third-party program administrator to oversee the program's operation. DMME expects to begin implementing these changes July 1.
Once the statewide program is launched, localities can opt in, using standardized ordinance language, program documents, and guidelines. The statewide program will be optional for local governments and will operate alongside the already-established C-PACE programs in Arlington, Fairfax, and Loudoun Counties, and the Cities of Petersburg and Fredericksburg. Localities will still have the option of creating their own programs.

What are the advantages? A statewide C-PACE program will expedite access to C-PACE financing to building owners and provide scale across Virginia's 95 counties and 40 independent cities. Through private capital, this energy financing will play a role in achieving the objectives of the Virginia Clean Economy Act, Executive Order 43, and the 2018 Virginia Energy Plan. C-PACE provides 100 percent up-front and long-term financing for building owners. It helps pay for clean energy upgrades to buildings, including renewable energy and energy storage systems, vehicle charging stations, and energy and water conservations projects.
By reducing time, cost, and administrative hurdles, Virginia's statewide C-PACE program seeks to provide faster and more equitable access to capital to building owners around the state, particularly in smaller jurisdictions.
Due to changes implemented during the 2019 General Assembly session, the Program can also help property owners finance key resilience investments and upgrades. Resilience measures can reduce impacts to shorelines and operational disruptions associated flooding, storm events, and sea-level rise. Because of this resilience component in Virginia, it may be more appropriate to call the program C-PACER (Commercial Property Assessed Clean Energy and Resilience)!
For more information about C-PACE:
Note: Annette Osso, Managing Director, Resilient Virginia has been appointed to the Virginia C-PACE Program Advisory Group.

Regional and National Resources
Information Resources
MARISA. The Mid-Atlantic Regional Integrated Sciences and Assessments (MARISA) program was established in September 2016 through a five-year grant from the National Oceanic and Atmospheric Administration (NOAA). MARISA supports integrated, flexible processes for building adaptive capacity to climate variability and change in diverse settings in the Mid- Atlantic region, with an initial focus on the Chesapeake Bay Watershed. They issue a seasonal Chesapeake Bay Watershed Climate Impacts Summary and Outlook; see their latest here.
US Climate Resilience Toolkit. The U.S. Climate Resilience Toolkit is a website designed to help people find and use tools, information, and subject matter expertise to build climate resilience. The Toolkit offers information from across the U.S. federal government in one easy-to-use location. Find information and tools to help you understand and address your community's climate risks. This mostly technical, but very useful, site provides a roadmap for resiliency planning, including sections on Learn How to Build Resilience, See What Others are Doing, and Use Climate Explorer.
Think Resilience. An online course — offered free for a limited time during the COVID crisis — helps community members start doing something about climate change and our other sustainability challenges. This course, composed of 22 video lessons, is offered by the PostCarbon Institute, and can be combined with discussion time to review the suggested reading after each lesson. The course is hosted by Richard Heinberg, one of the world's leading experts on the urgency and challenges of moving society away from fossil fuels. See his introductory video below.
Funding Resources
Appalachian Regional Commission. Announced May 11, a $3.75 million grant to Appalachian Community Capital for the Emergency Business Response Assistance Program which will go to finance lenders to assist small businesses impacted by COVID-19 related losses. Read the complete press release here.
FEMA Hazard Mitigation Funding. Virginia Department of Emergency Management (VDEM) recently announced the receipt of Hazard Mitigation Grant Program (HMGP) funds totaling $1,462,358 from the Federal Emergency Management Agency (FEMA) in connection to Hurricane Florence and Tropical Storm Michael. Awards under this program will help designated communities implement hazard mitigation measures that reduce the risk of loss of life and property from future disasters. For additional information, please contact Robbie Coates — VDEM Grant Manager for Disaster Programs at robert.coates@vdem.virginia.gov.
Virginia Foodshed Capital. This organization provides financial stewardship to local farms and food enterprises in two ways: 1) Soil Fund, which provides zero-interest loans to small and mid-size farms and businesses promoting a local regenerative food economy, and 2) training and technical assistance. Since the organization started making loans in January 2019, they have helped over 24 farm and food enterprise businesses, included providing 79% of their loans to women and farmers/entrepreneurs of color.

Resilience Events Calendar

This Spring, so many webinars, conferences, and advocacy meetings are happening online that we encourage you to:
Check our Resilient Events Calendar on a regular basis to find out what is happening in Virginia and around the nation.
Stay tuned for Resilient Virginia's Resiliency Academy online events.
Give a special look to our regional partners — Leaders in Energy and USGBC Virginia — who have transitioned to all virtual events.

Membership
Help Us Help Those in Need!
Resilient Virginia is committed to helping Virginians during the COVID-19 crisis. Join us before July 31, and we will donate 10% of memberships, annual sponsorships, and donations to the Federation of Virginia Food Banks.
Thanks to these supporters who are helping us reach our goal:
Thanks to our latest Annual Supporter!
Angela Orebaugh, Tomorrow-Today
Members
Nell Boyle
Cville100
Environmental Resilience Institute, UVA
Jennie Garon
Mark Gentilman
Marcia Geyer
Katherine Henderson
Rebecca Joyce
Leslie Louden
Lynnhaven River NOW
Claire Rubin
Brad Slocum
Scott Sklar
Steve Sunderman

Donors
Tom and Wren Olivier
With your support we can expand our resiliency information hub, carry out workshops and conferences, and offer communities tools they need to address climate change.
You can help by:
Becoming a Member
Signing on as an Annual Sponsor
Making a Donation
Before July 31, 2020
THANK YOU!
Continue your support throughout the year by using one or both of these online shopping sites that contribute to Resilient Virginia:

If Amazon is your online shopping choice, go to Smile.Amazon.com and designate Resilient Virginia and we will receive a donation with every purchase.

Find lots of discounts and many participating stores for office supplies, general shopping, and special event gifts.
JOIN TODAY — IT'S OUR FUTURE!
Note from Annette Osso, Editor, Resilient Virginia News
— Feel free to send your suggestions for stories, as well as comments on existing stories. I am the primary manager and writer of the newsletter; except as noted with designations of authorship by other staff or invited guest writers. Contact: osso@resilientvirginia.org