The Role of Community Members and Leaders
Developing equitable resilience solutions requires the direct participation of impacted communities in the development and implementation of the solutions and policy decisions that directly impact them. With assistance from third-party facilitators, collaboration amongst community members, community-based organizations, and local governments can accelerate the implementation of resilience solutions while increasing the viability of the solutions.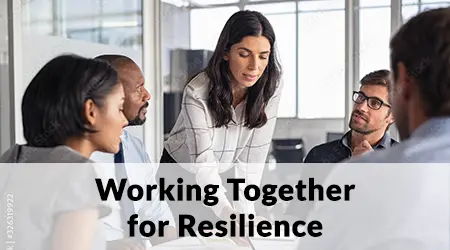 Community Members: Participate — individually or as a group; Start neighborhood groups; Engage with Community Based Organizations.
Community Based Organizations: Cultivate community capacity to participate; Make sure community members are informed, consulted, and involved.
Government Staff and Elected Officials: Based on community feedback, facilitate changes in policies, programs, and systems to increase equitable resilience solutions and decrease disproportionate harms.
External Facilitators: Cultivate the conditions for collaboration between community members, community based organizations, and local government; Assess and document progress toward goals and community solutions.
For a deeper dive on Collaborative Governance, check out From Community Engagement to Ownership from the Urban Sustainability Directors Network.
Resilient Virginia's Role
Resilient Virginia is a nonprofit organization intent on moving resiliency initiatives forward at both the state and local levels by taking an educational and action-oriented approach. Our organizational goals are:
To inform diverse community representatives around the Commonwealth about natural, climate-related, and man-made challenges;
To educate key groups about models for community resilience planning; and
To activate these communities to engage in resilience plan development.
Inform
Resilient Virginia acts as a source of the latest and most relevant information about resilience through a number of initiatives, outlined below.
Resource Hub
Our Resilient Virginia Resource Hub is a library of curated and categorized resources that cover multiple aspects of resilience and are published by reputable sources.
Topic Experts
Resilient Virginia staff serve as topic experts on a variety of advisory groups throughout the state, including Virginia Department of Conservation and Recreation's Flood Resilience Outreach Strategy Plan NGO advisory group, Virginia Department of Transportation Environmental Stakeholders Engagement Group, MARISA's Year 8 Advisory Committee, and the Tree Roundtable Virginia Strategy Session. We are able to provide insight into the public's resiliency needs and wants based on our Listening Sessions, surveys, and on-going communication with Virginia communities.
Newsletters and Articles
Resilient Virginia's articles, publications, member briefs, and quarterly newsletters are a source of up-to-date information on local, state, national, and international resiliency efforts covering a broad range of topics — from energy to infrastructure to economic development. Sign-up to receive our quarterly newsletter.
Educate
Workshops, Trainings, and Conferences
Through workshops and training, including the
Resiliency Academy
series, Resilient Virginia provides local governments and community organizations with information on high-priority, high-impact resiliency strategies. Through our
biennial conferences
, Resilient Virginia highlights case studies, provides peer-to-peer learning opportunities, and identifies new challenges and opportunities, thus accelerating implementation of innovative practical and policy resiliency solutions.
Partnering with Higher Education to Build Workforce Capacity
Resilient Virginia partners with universities and colleges around the state to train the next generation of resiliency leaders and build workforce capacity. We do this through:
Highlighting resiliency research initiatives
Providing student internship opportunities;
Supervising graduate level group projects;
Participating in classroom panel discussions; and
Working one-on-one with students.
Activate
Resilient Virginia Collaborative Alliance
The Resilient Virginia Collaborative Alliance (RVCA) will empower regional stakeholders to collaborate, share resources and tools, and significantly bolster the process of resiliency planning in communities located in Central and Southwest Virginia.
Learn more here
.
Community Outreach and Engagement
Resilient Virginia works directly with communities to
Identify and address risks and challenges;
Build community leadership and empower community members to get involved in developing resilience solutions; and
Gather risk assessment data to provide to government entities.
We do this through:
Providing a safe and open space for discussion;
Providing risk assessment data to participants;
Listening and recording stakeholder issues; and
Focusing on equitable solutions.