What's New
Climate Is Making News (Still); Americans Weigh In
NOAA and NASA Reports
"2018 is yet again an extremely warm year on top of a long-term global warming trend," said NASA's Goddard Institute for Space Studies (GISS) Director Gavin Schmidt.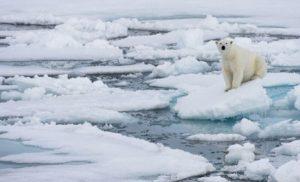 NASA and NOAA (National Oceanic and Atmospheric Administration) issued independent analyses that were released in February 2019. They both reported that the earth's global surface temperatures in 2018 were the fourth warmest since 1880. The past five years are, taken together, the warmest years in the modern record.
Since the 1880s, the average global surface temperature has risen about 2 degrees F (1 degree C), due, in large part, to increased emissions into the atmosphere from carbon dioxide and other greenhouse gases caused by human activities.
Schmidt continues, "The impacts of long term global warming are already being felt — in coastal flooding, heat waves, intense precipitation, and ecosystem change."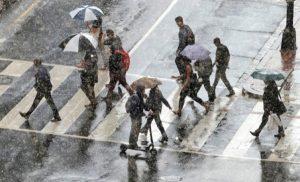 Indeed, 2018 saw the wettest year ever recorded in the mid-Atlantic region. Warming trends are strongest in the Arctic region, with accompanying sea ice loss. And sea level rise continued to accelerate due to mass loss from the Greenland and Antarctic ice sheets. Increasing temperatures are also tied to longer fire seasons and some extreme weather events.
Read the NASA report here and the NOAA Global Report here.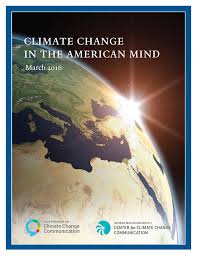 Americans Weigh In
The latest national survey by the George Mason University Center for Climate Change Communication and the Yale Program on Climate Change Communication indicates that a record high percentage (72%) of Americans now say that global warming is personally important — up 9 percentage points from last year. Published in December 2018, the survey, Climate Change in the American Mind, points out that 65% of Americans think global warming is affecting weather in the United States, and 32% think weather is being affected "a lot." 62% of Americans understand that global warming is mostly human-caused, whereas a record low 23% say it is due mostly to natural changes in the environment.
A second report, Politics & Global Warming, was released in early February. This shows that, for the first time, a majority of registered voters are worried about global warming.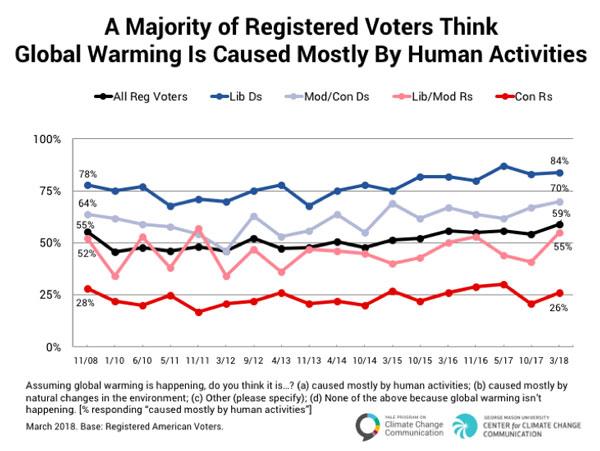 The survey also reflects that a majority of registered voters support a variety of national policy actions to reduce carbon pollution, decrease our dependence on fossil fuels, and promote clean energy. These include such measures as a "fee and dividend" or "revenue-neutral carbon tax," which would each require fossil fuel companies to pay a fee or tax with the funds being used to reimburse citizens in particular ways, or a "Clean Power Plan," which would set strict limits on carbon dioxide emissions by coal-fired power plans. Even the newly publicized "Green New Deal" received positive support (81% of registered voters), according to this survey.
The Yale Program website also contains an interactive map that shows the survey results for Democrats and Republicans, both across the United States, and state-by-state. You can see this map for the state of Virginia, and by Congressional districts here.

Distributed Solar Continues to Make Headway
By Tracy Garland, Social Media Director, Resilient Virginia
Solar Jobs Surge in Virginia
According to a recent report by the Solar Foundation, America now has over 242,000 solar workers, with nearly 4,000 of those right here in Virginia. The National Solar Jobs Census 2018 announced that solar jobs in Virginia increased 9% between 2017 and 2018, putting Virginia in 20th place for solar jobs by state.
The report notes that job growth in the solar field far outstrips overall job growth in recent history: "In the five-year period between 2013 and 2018, solar employment increased 70% overall, adding 100,000 jobs. By comparison, overall U.S. employment grew only 9.13% during that same period." Further, the report predicts that, with a backlog of utility-scale projects and new policy incentives in key states, the outlook for solar jobs is expected to improve in 2019.
Resources for more information:
National Solar Jobs Census – The Solar Foundation
2017 Solar Jobs Census map of Virginia is an interactive source of information about jobs by congressional district, county and metropolitan area.
Distributed Clean Energy Expansion
We are highlighting several community-based and utility solar programs that are helping residential consumers with the opportunity to access renewable energy choices. These programs represent some of the growing initiatives in the state that give consumers the chance to lower their energy bills and their carbon emissions by going solar.
VASUN Residential Program
Solar United Neighbors in Virginia (VASUN) recently released its 2018 year in review, reporting that nearly 1,000 kW of solar capacity in over 100 homes and businesses were installed through its solar co-ops last year.

VASUN also helped with the creation of the Arlington Solar and EV Charging Co-op. Homeowners and businesses participating in the program have the option of installing solar panels, a level 2 electric vehicle charger, or both. This is the first solar electric vehicle (EV) co-op in Arlington and it helps electric vehicle (EV) owners and even those interested in purchasing EVs by providing information and discounted pricing support.
VASUN helped Kiskiack Golf Club became the first golf course in Virginia to go solar. The 29 kW roof top solar system installation was completed by Convert Solar as part of the Hampton Roads Solar Co-op, a community bulk purchase program supported by Solar United Neighbors of Virginia. The system installed on the golf club's maintenance building will offset up to 25% of the energy used by the golf course and save more than $3,000 on electric bills each year.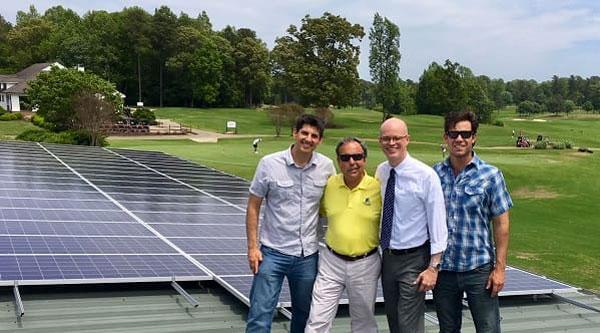 VASUN also helped educate nearly one thousand community members about solar energy through free public information sessions in 2018 and continues to build a network of people who support solar as the best way to build a resilient and equitable energy system.
Central VA Electric Cooperative
Less than a year ago, The Central Virginia Electric Coop (CVEC) launched its new community solar program, Solar Share. The program allows residential consumers to purchase up to five 50-kilowatt-hour (kWh) "blocks" of solar energy. The subscription rate of $4.50 per block is locked in and not subject to rate increases for 25 years.
CVEC has completed construction on two solar generation farms, which will produce a total of 10 megawatts (MW) of energy, making them the largest solar project for an electric distribution cooperative in the state. CVEC will add 60% of the solar energy to its power supply portfolio for use by all 36,000 members, while the other 40% of the energy output will be offered to its members for subscription through Solar Share. CVEC serves homes and businesses in portions of 14 counties in Central Virginia.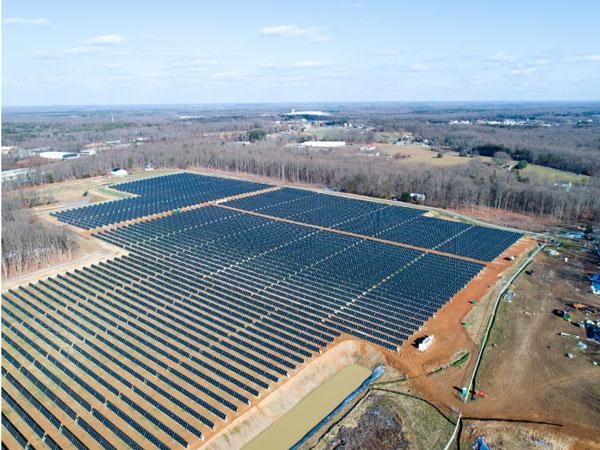 Rappahannock Electric Cooperative
Through its Sunshare Program, the Rappahannock Electric Cooperative (REC) serves 22 counties in northern Virginia, and allows its members to purchase 50-kilowatt-hour (kWh) blocks of solar energy. While a small portion of all electricity supplied by REC is generated at solar facilities in Virginia and only one modification is allowed within a 12-month period, the price for solar blocks will remain fixed for 3 years and participants may cancel subscriptions at any time without penalty.
The REC's Net Metering program allows REC members to interconnect renewable generation systems to the electrical distribution system and to generate their own electricity. The meter measures both electricity being used from the grid and excess electricity generated by the user. The sum, or "net," is the volume of electricity (kWh) to be billed or credited to the monthly bill.

Climate Goals Get Going in Central Virginia
The City of Charlottesville, Albemarle County, and the University of Virginia (UVA) have launched a joint climate action initiative — Climate Action Together — with the goal of ramping up greenhouse gas reduction programs in Central Virginia.

Starting in February 2019, they have embarked on a collaborative community outreach effort as each entity begins to update their greenhouse gas (GHG) reduction targets and develop climate action plans (CAPs). The results of these efforts will serve to guide climate action in the Charlottesville area for the next 10–30 years.
These jurisdictions and the university had already initiated a range of GHG emission reduction programs over the past ten-plus years. For example, Charlottesville created its first emissions inventory in 2008 under their Climate Protection Program. They track municipal and community sector emission reductions periodically. For example, their 2012 report showed an 18% overall reduction for municipal facilities, vehicle fleet, and traffic signals and streetlights.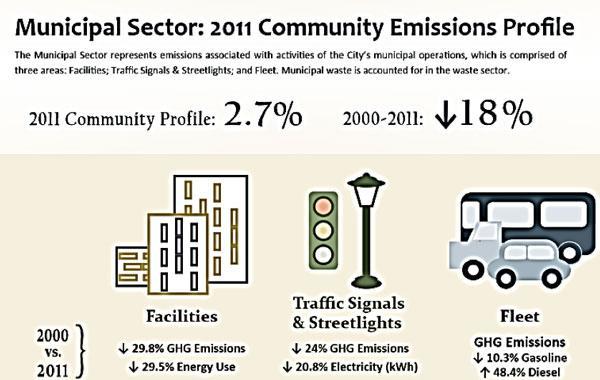 Charlottesville signed on to the Global Compact of Mayors initiative in 2017, with the commitment to further reduce GHG emission across municipal and community sectors. The city's most recent inventory of emissions reductions can be viewed in their 2016 Greenhouse Gas Inventory report.
Motivated by the newest information on accelerating climate impacts that were revealed in the 2018 United Nations Intergovernmental Panel on Climate Change (IPCC) Report, Charlottesville, Albemarle County, and UVA are working on expanding regional efforts that build on the Local Climate Action Planning Process (LCAPP) — a regional climate initiative by the three organizations completed in 2011.
Each organization will develop their own long-term targets and action plans to fit their unique composition and circumstances, but will work to share ideas and resources, build upon each other's work, and collaboratively engage with the community. The three organizations are coordinating their outreach efforts across their sustainability offices. Residents, businesses, and area stakeholders are encouraged to get involved and participate in this collaboration.
Some upcoming public events include:
City of Charlottesville
February 14–March 17, 2019: Public Comment Period on GHG Reduction Goal
April: City Council Meeting Agenda Item (Presenting Staff's Draft Recommendations for a Reduction Goal and Received Public Input Comments)
April–May: Public Comment Period on the Draft Recommendations
June: City Council Meeting Agenda Item (Proposing a Reduction Goal for Adoption)
Connect here to learn more about Charlottesville's past emission reduction goals and their new initiatives.
Albemarle County
March 18, 2019: Public Event for Climate Action Planning (supported by City and UVA sustainability staff)
April: March–Summer 2019: Climate Action Planning and Goal Setting — Engagement Opportunities with Sector Teams and Workgroups
April: Summer 2019: Adopting a Climate Action Plan and GHG Reduction Goal
Connect here to find out more about Albemarle County's work on setting GHG reduction goals.
University of Virginia
Early Spring through Fall 2019: Further Developing UVA's Climate Action Plans and Commitments
Connect here to find out about the University of Virginia's current initiatives and plans for the future.
Keep up with specific participation opportunities and find more information about each organization's efforts by checking in at www.ClimateActionTogether.org.

Some Resiliency-Related Legislation Succeeds in 2019 General Assembly
Bills Connected to Energy Efficiency and Renewables
(Source: Powered by Facts — www.poweredbyfacts.com)
Virginia (along with the entire nation) needs to move rapidly toward de-carbonization of energy production to rapidly reduce GHG emissions, according to the 2018 National Climate Assessment. A few bills that will help with this goal passed the General Assembly this year, with more extensive efforts needed in subsequent General Assembly sessions.
HB 2293 and SB 1605: Created a stakeholder process to provide important input on the development of utility energy efficiency programs.
HB 2792 and SB 1779: Created a 6-year pilot program for municipal net metering for localities that are customers of utilities.
HB 2621 and SB 1091: Allows localities to require a decommission plan as a condition for approving a solar site plan.
HB 2547 and SB 1769: Makes changes to the net-metering program for customers of electric cooperatives, including raising the net-metering cap to 7% of system peak and permitting customers to install enough renewable energy to meet up to 125% of previous year's demand.
HB 2192 and SB 1331: Creates school modernization initiatives that encourage energy efficient building standards and net zero design.
Broadband Expansion for Rural Virginia
(Source: Commonwealth Connect. Contact Kyle Rosner, kyle.rosner@governor.virginia.gov)
Rural areas need economic diversification and growth, and a critical factor for success is strongly linked to broadband connectivity. Resilient Virginia is now a partner with Commonwealth Connect.
Broadband Budget: $19 Million in funding for the Virginia Telecommunication Initiative (VATI) for FY 2020.
HB 2141: Expands the powers allocated to a local service district for broadband and telecommunications services in an unserved area. The legislation specifies that service districts can only contract with nongovernmental broadband service providers.
HB 2691: Establishes a pilot program for Dominion and Appalachian Power to own and lease broadband services to nongovernmental broadband providers in unserved areas of the Commonwealth. The pilot will be capped at $60 million annually per utility for three years and also authorizes the utilities to recover the net costs of the pilot from customers through rate adjustment.
HB 2541 and SB 1618: Extends the expiration of the Office of Telework Promotion and Broadband Assistance (OTPBA) and the Broadband Advisory Council (BAC) from July 1, 2019, to July 1, 2021, and alters and expands from 14 to 17 the membership of the Council.

2018–2019 Board of Directors
We are pleased to highlight our Board Members and to introduce our 2018–2019 Advisory Committee on our website.
Officers
Chairperson
Andrew V. "Andy" Sorrell
Deputy Director, Virginia Tobacco Commission
Vice Chair
Ellen Graap Loth
Principal, Cardno, Inc.
Secretary
Jane Frantz, AICP, PMP, CFM
Associate Vice President, Dewberry
Treasurer
Vestal Tutterow, PE, CEM
Program Manager, Lawrence Berkeley National Laboratory
Directors
Jerry Eastridge, LLA, BPI
Principal, GSPH LLC
Rebecca Joyce
Community Program Manager, Central Shenandoah Planning District Commission
Steve Sunderman, RA, LEED AP BD+C, BPI
President, Terrazia PC
Erin Sutton, MS, CEM, PMP
Director, Office of Emergency Management, City of Virginia Beach
Past Chair
Nell Boyle, LEED AP
Sustainability Coordinator, City of Roanoke
Managing Director
Annette Osso, LEED AP
osso@resilientvirginia.org

Resilience Events Calendar
We are anticipating a busy Spring, Summer, and Fall this year! Here are some highlights of events Resilient Virginia will be involved with.
March 26, 2019: RELI — Guidelines for Resilient Buildings. Hosted by USGBC VA and Resilient Virginia. Noon to 1 pm. Interstate Center Conference Room, 2104 W. Laburnum Ave., Richmond, VA.
April 25, 2019: Building Sustainability Conference and Tour. Hosted by Viridiant, with participation by Resilient Virginia. The Place at Innsbrook, 4036 Cox Road, Glen Allen, VA.
April 27, 2019: Arlington Home Show and Resiliency Workshop. Arlington County and Resilient Virginia. Free to the community. Kenmore Middle School, 200 S. Carling Spring Rd, Arlington, VA.
Summer 2019: 2019 Resilient Virginia Conference. Our third statewide conference! Planning is underway. Stay tuned for the announcement of the date and location. Contact Annette Osso, Managing Director at osso@resilientvirginia.org to get involved.
September 17, 2019: Virginia Clean Energy Symposium. Hosted by VA-Renewable Energy Alliance with Resilient Virginia and others as partners. Stay tuned for more information on the agenda and speakers.
Check our Resilient Events Calendar on a regular basis to find out what is happening in Virginia, around the nation, and virtually through webinars.
Membership — Spring is in the air somewhere!
Make Resilient Virginia membership your Springtime goal!
Thanks to new Annual Sponsor — ClarkNexsen
And new Members
University Member — Environmental Resilience Institute, UVA
Non-Profit member — VA-Renewable Energy Alliance
Abimbola Odumosu
Remy Pangle
Reg Snider
Karen Simester
Resilient Virginia is on a mission to
*Inform *Educate and *Activate
Virginia communities to build resiliency in the face of challenges to community prosperity, national security, and changing climate.
You can help by:
Becoming a Member
Signing on as an Annual Sponsor
Continue your support throughout the year by using one or both of these online shopping sites that contribute to Resilient Virginia:

If Amazon is your online shopping choice, go to Smile.Amazon.com and designate Resilient Virginia and we will receive a donation with every purchase.

Find lots of discounts and many participating stores for office supplies, general shopping, and special event gifts.
JOIN TODAY — IT'S OUR FUTURE!